Sepp Blatter only confirmed his intentions to seek another term as world football's top functionary as the pre-World Cup FIFA Congress drew to a close in Sao Paulo on Wednesday.
"My mission is not finished," he told officials from FIFA's 209 member associations. "Congress, you will decide who will take this great institution forward, but I can tell you I am ready to accompany you in the future."
Blatter's current term expires on May 29, 2015. Several European FIFA members on Tuesday clearly expressed their unwillingness for the 78-year-old, FIFA president since 1998, to seek a mandate until 2019.
"I have never experienced something as disrespectful in my life, neither on the football field nor in my own house," Blatter told journalists when asked about the European mini-revolt. When the Swiss official won his fourth term in 2011, he had said that it would be his last.
Sharing the wealth, shooting for the stars
The FIFA president airbrushed next year's elections out of Wednesday's ceremonies for the most part, focusing on world football's high revenues. He pledged bonuses this year of $750,000 (555,000 euros) for the national associations, and of $7 million for the continental federations, moments before raising the issue of his renewed candidacy. At one point, perhaps half-joking, Blatter literally implied that the sky was the limit for FIFA.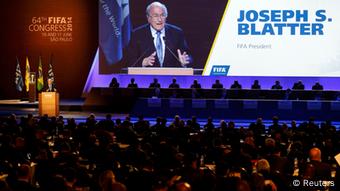 Promising more FIFA funds elicited applause
"We wonder one day if our game is played on other planets. Why not," he asked the assembled delegates. "Then we will have not only a World Cup, we will have inter-planetary competitions." Blatter's loose tongue is rather famous in soccer circles, with past suggestions including the abolition of draws and that female players should wear tighter shorts to boost interest in the women's game.
Blatter never directly addressed the corruption allegations surrounding Qatar's nomination as hosts of World Cup 2022. The most recent were published by British newspaper The Sunday Times, but FIFA's in-house committee investigating the alleged misdeeds said they did not need the newspaper's information.
"We have gone to what appears to us to be the original source of that data and we are confident we will have full access to whatever else may be in that data set and we will review that data for anything else relevant prior to issuing the final reports," Michael Garcia, who handed in his preliminary findings from a two-year investigation this week, said of the information in the British press.
Brazilian leaders like President Dilma Rousseff steered clear of the Sao Paulo conference, a day before the hosts take on Croatia in the opening World Cup game.
No age limits, Germany's Niersbach dissatisfied
The assembled delegates on Wednesday voted down proposals for term limits for football functionaries - a plan that former German DFB football association president Theo Zwanziger was charged with formulating. The idea of limiting time in office was one of the "democratic reforms" proposed from within by Blatter. Zwanziger had appealed to the delegates to approve the measure prior to the vote - Germany voted in favor.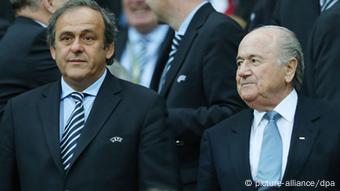 Blatter's watching and waiting for Platini's next move
The German DFB football association has emerged as one of the more outspoken opponents of Blatter remaining in office, along with the English and Dutch bodies. Current DFB President Wolfgang Niersbach on Wednesday told reporters that he hoped UEFA President Michel Platini would run against Blatter.
"I consider him the most suitable," Niersbach told German reporters. "Blatter has done a lot of good, but the time is right for this transiton - provided Michel is tempted. Platini has been in the functionary world since 1998."
Platini has said he will not decide about launching a bid for the FIFA presidency until after the World Cup, most likely not before September. Challenging Blatter would be a risk for Platini: he would have to give up his UEFA position to do so, and would also have to win over dozens of countries beyond Europe's borders to have any chance in the voting. Every FIFA member's vote counts the same, irrespective of that country's size or status.
msh/jm (AFP, dpa, SID)