Dominique Strauss-Kahn, head of the International Monetary Fund, warned of dire consequences for people in developing countries should food prices remain high.
"Thousands, hundreds of thousands of people will be starving" and social unrest could lead to war, said Strauss-Kahn on Saturday, April 12, at an IMF meeting in Washington.
Skyrocketing prices of commodities like rice, wheat, corn and milk have led to riots in developing countries around the world this month, including Indonesia, Egypt, the Philippines and Haiti.
Some experts and government leaders are blaming the price fluctuation on increased biofuel production, which requires a fair amount of agricultural land. High energy prices and inflation are also seen as culprits.
Call for reconsideration of biofuel goals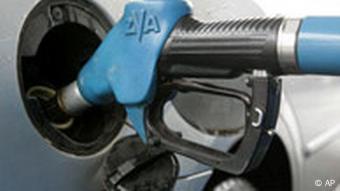 The EU wants biofuels to cover 10 percent of its transportation needs by 2020
It is "unacceptable for the export of agro-fuels to pose a threat to the supply situation of the very people already living in poverty," Development Minister Heidemarie Wieczorek-Zeul said Saturday in a statement prior to the IMF meeting.
"The targets for [fuel] blends must be put to the test."
EU leaders agreed last year to obtain a tenth of all transport fuel from biofuels by the year 2020 as part of a comprehensive package aimed at fighting climate change.
Biofuels are made from crops like corn, wheat, sugar and palm oil, which are refined into ethanol or oil. They are used as an environmental friendly alternative to gasoline and diesel as they release lower quantities of CO2 when burned. Both Europe and the US subsidize biofuel production.
Food or fodder?
But also on Saturday, Germany's Environment Minister Sigmar Gabriel downplayed the effect biofuels have had on global food prices.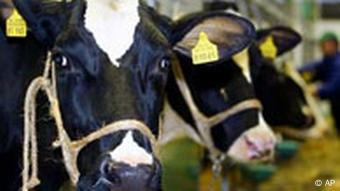 Gabriel said fodder prices have also been rising
"We can meet the 10 percent target through biofuel production in the European Union [and imports of] raw materials, which do not lead to a conflict with food or rainforests," Gabriel told reporters Saturday on the sidelines of an EU environment meeting in Slovenia.
"The big competition is not between the use of biomass for energy and food but between feed and food," said Gabriel. "The consequences of the growing demand for meat and milk are that more land is used for fodder, and this development is just made worse by the biofuels."
According to the Food and Agriculture Organization, 37 countries currently face food crises. The World Bank, an institution tasked with fighting poverty, is to continue food shortage discussions at a meeting in Washington on Sunday.
World Bank President Robert Zoellick has urged countries to immediately provide the minimum $500 million sought to allay the shortage.