Perhaps what was most admirable about the seconds after Mainz scored a relatively late equalizer against Dortmund on Saturday was what didn't happen. Several players shared the blame for that goal, yet there was no finger pointing.
They simply went back on the attack, and eighty seconds later, they had reestablished their lead. Mainz's will was broken and the match ended 2-1.
Key to the game-winner was something else that didn't take place. Reserve attacking midfielder Ivan Perisic, no doubt very keen to make an impression, had advanced the ball up the right. Yet instead of trying to pull something difficult out of his hat, he simply stepped aside for Lukas Piszczek, who threaded a cross in for Shinji Kagawa. The Japanese midfielder duly blasted home.
"It's remarkable how much these players trust one another," said former German national goalkeeper Jens Lehmann who was commentating on the match for TV.
That moment showed how important interactions between players are in determining the outcome of tight matches. It also illustrated that, their obvious skill and fitness notwithstanding, chemistry is one of the major reasons Dortmund have put seven points between themselves and second-placed Bayern.
Well-loved boss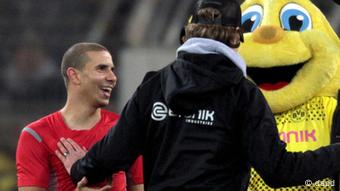 There was a reunion between Zidan, Klopp and the Dortmund mascot
The lion's share of the credit for the unusual harmony has to go coach Jürgen Klopp. The feelings of identification with the club even extend to players who no longer ply their trade in Dortmund.
Conspicuous was the fact that Mainz's Mohamed Zidan, who played for Dortmund until this winter, refused to celebrate the goal that temporarily knotted the score. Normally strikers are especially jubilant when they perform against clubs where they failed to make their mark. The Egyptian seemed more concerned with expressing respect for Klopp, who used to coach Mainz and is considered Zidan's mentor.
And the affection went both ways.
"He got his goal, and we won the match," the obviously pleased coach told reporters. "So everything was perfect."
Ironically, "mia san mia" - or "We stick together" - is the traditional motto of Dortmund's only realistic rival for the Bundesliga title, Bayern Munich. But as Saturday showed, this Bayern squad is anything but the one-for-all, all-for-one outfits of the past.
Mutual recriminiation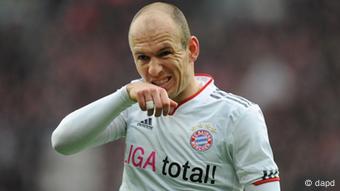 This hasn't been Robben's happiest season
The scene most symbolic of Bayern's shock 2-0 loss to Leverkusen came in the first half, while Munich was still the better side. After one of the hosts' rare forays forward, midfielder Thomas Müller screamed at defender Jerome Boateng for failing to mark his man tightly enough.
And that lack of togetherness was increasingly apparent in the second half, as players like Arjen Robben resorted to more and more solo moves to try to break through. Robben, of course, has been fairly vocal about having to take a seat on the bench in recent matches.
And neither he nor any of his teammates came up with the goods once Bayern had fallen behind in Leverkusen.
Differences of opinion seem to have become the rule in Munich.
"As of today, we don't need to talk about the title anymore," a disappointed Bayern sporting director Christian Nerlinger told reporters after the match. It was a direct revocation of statements captain Philipp Lahm made during the week that only the Bundesliga crown would do for Bayern this season.
Almost inevitably, speculation has begun about the future of Bayern coach Jupp Heynckes, with some commentators suggesting that even his friendship with Munich president Uli Hoeness would not suffice to save his job, should Bayern fall out of the Bundesliga title race.
But perhaps if they are to launch a comeback, what Munich need more than further criticism and confrontation is some good old-fashioned team spirit.
Some of what's helped Dortmund to a perfect record in 2012.
Author: Jefferson Chase
Editor: Andrea Rönsberg