Rwanda's growing film industry was showcased for the first time at this year's Berlinale, the 10-day international film festival held annually in Berlin. Included in the program was the all-day event "Focus Rwanda", and it did exactly that - focus on films produced in Rwanda by Rwandans, and aimed at a Rwandan audience.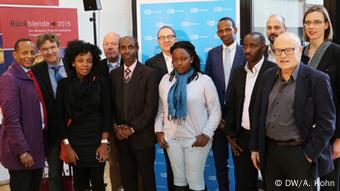 Representatives from the Rwanda Media Project, Rhineland-Palatinate, the Rwandan embassy and DW Akademie
Five short movies were screened at the event, and three of its young moviemakers were there to talk about their work. Among the guests were the German Oscar-winning filmmaker Volker Schlöndorff as well as Eric Kabera, founder of the Rwandan Film Institute, KWETU.

Both men helped to kick-start Rwanda's young movie industry. Schlöndorff recalled how a chance meeting with Eric Kabera initially brought him to Rwanda. He said one of his first impressions was seeing a handful of young people sitting around a computer in a handicraft studio located in Kigali. The studio housed the fledgling institute's first classrooms. This immediately resonated with Schlöndorff, who views filmmaking as a craft rather than as an art, and he offered the students a lesson in filmmaking right on the spot.

Rwanda's young filmmakers

This marked the beginning of the Rwanda Media Project (RMP), initiated by Schlöndorff himself. The project focuses on training film and media makers. Its core activities include film workshops, taught in partnership with the European Film Center Babelsberg, and since 2014 a two-year training program in media design, headed by DW Akademie and based on the German vocational model.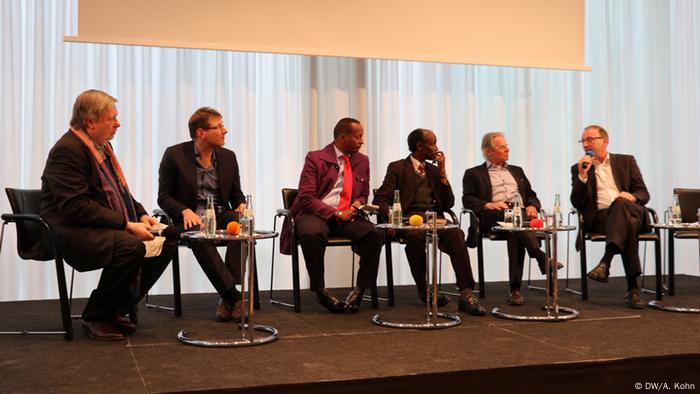 Panel discussion (from left to right) with Guido Convents (Leuven Short Film Festival), Prof. Olaf Hirschberg (Mainz University of Applied Sciences), Eric Kabera (founder of the KWETU Film Institute), Kennedy Mazimpaka (vice-president of the Rwanda Film Federation), Klaus Keil (European Film Center Babelsberg) und Michael Tecklenburg (head of DW Akademie's Africa Division)

Fourteen young Rwandans are currently receiving practice-oriented training in camera work, sound and editing, taught by DW Akademie in collaboration with the KWETU Film Institute. In autumn 2015, the first group of trainees completed a placement with various German media institutes.

The RMP and its training program played a prominent role at the Focus Rwanda event, given that it was instrumental in training a number of the Rwandan moviemakers attending. However, both Michael Tecklenburg, head of DW Akademie's Africa Division, and Eric Kabera stressed the need to also train Rwandan filmmakers as trainers, in order to sustain the project's goals.

"RMP's focus is on developing a film industry for Rwanda itself," said Schlöndorff. "In many other African countries," he pointed out, "the movie industries are mainly interested in attracting foreign productions, especially Hollywood ones." By contrast, he said, RMP's goal is for documentaries and feature films to tell Rwanda's story. This was a recurring theme in Berlin, with a call for Rwandan filmmakers to make movies aimed primarily at Rwandans in the official language, Kinyarwanda, and for foreign audiences to play only a secondary role.

"We all create our own versions of reality", said Eric Kabera. "That's important for viewing Rwanda's disturbing history from a human perspective, and this applies to current political and social issues, as well."

Room for something new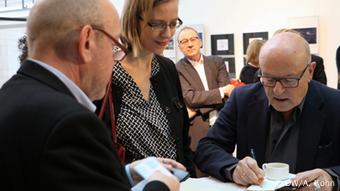 Discussing the Rwanda Media Project with Volker Schlöndorff
Rwanda's film industry is still in its infancy, and that's what makes it so special, said Schlöndorff enthusiastically. Hollywood, he said, hasn't yet managed to put its stamp on moviemaking there. For Schlöndorff, the innocence that characterizes Rwandan storytelling produces an unspoiled creativity with the potential to create something fresh and new.

This was evident in the unusual storytelling styles of the Rwandan short films presented in Berlin. Some addressed topics that until recently were taboo in Rwanda. One film, for example, tells the story of a mother who turns to prostitution as a way to support her children. Another short documentary enchanted audiences by focusing on the cows owned by the filmmaker's grandfather, using them as a metaphor for conveying important aspects of Rwandan culture.

Participants in a panel discussion agreed that while Rwanda's film industry is still very young, the short films and the filmmakers' own confidence, sparked curiosity about future films to be produced in this East African country.