Education is key to integration, acknowledged participants at Germany's third integration summit in Berlin on Thursday, Nov. 6.
In addition to aiming for stronger German language skills among school-starters, Maria Boehmer, the minister responsible for integration matters, also said Berlin aimed to halve the number of school drop-outs and increase the level of education among immigrants.
Only 58 percent of day care centers in the country offered language assistance for children with immigration backgrounds, said Boehmer, adding that state governments had already taken steps toward improving this statistic.
She also said government-sponsored integration courses were an example of success in the quest for improved integration among immigrants. Some 500,000 people had participated in them so far.
Emphasizing that "immigrants are a part of our society," German Chancellor Angela Merkel had invited roughly 140 representatives from various states, countries and immigrant organizations to attend the summit.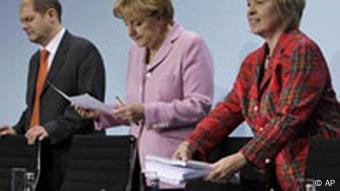 Scholz (from left), Merkel and Boehmer outlined the integration goals
Merkel underlined the importance of setting concrete goals in integration politics that can be easily measured.
Progress too slow, say immigrant groups
Some immigration associations, however, voiced their disappointment Thursday in the results achieved thus far, pointing to, among other issues, a lack of educational opportunities.
Mehmet Tanriverdi, president of the federal association of immigrant associations, claimed the German citizenship test introduced in September and the limitations on the subsequent immigration of family members hoping to join their relatives in Germany have hindered progress on integration.
"These measures are counterproductive and do not lead to better integration," he said.
Merkel refuted the criticism, saying that 98 percent of those who have taken the citizenship test since September were successful in passing it.
"It's a bit early to say whether that's good or bad," said the chancellor.
Olaf Scholz, the federal employment minister, underlined the importance that education and qualifications have in supporting integration.
"Integration is truly successful when everyone has the chance to be independent," he said.
Around 15 million people living in Germany have immigrant backgrounds.