Governing Berlin mayor Michael Müller called for the dismissal of Andrej Holm from his post on Saturday after "Der Tagesspiegel" newspaper revealed that the state housing secretary had withheld information about his past employment by the Stasi, the former German Democratic Republic's (GDR) secret police. Holm, who has denied any wrongdoing, previously admitted to having trained with the Stasi but not to having held a full-time position in the agency.
Müller's statement
In a statement released Saturday, Müller made it clear that he held Holm responsible for failing to accurately and honestly detail his past involvement in the Stasi.
"In the past weeks, Andrej Holm had the opportunity to examine himself and his own handling of his biography and to decide whether he can fill a high political office," Müller stated. "His interviews and statements with respect to this question show me that he is not sufficiently able to undertake such self-reflection," he concluded.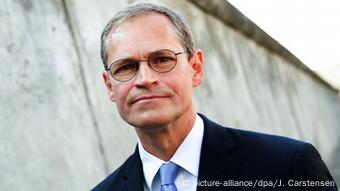 Berlin's mayor Müller has called for Holm's dismissal
Müller, who belongs to the Social Democratic Party (SPD), also noted that a state secretary had not only "technical responsibility" but also "responsibility to people."
Müller asked Holm's boss, Senator Katrin Lompscher of the Left party, to submit a bill to the Senate for Holm's dismissal. Holm, who is politically independent, works in the German capital city's coalition government made up of the SPD, the Green party and the Left party.
Falsification on a form
Before becoming the city's expert on urban development and housing, Holm campaigned for affordable rents in Berlin and against skyrocketing real-estate speculation.
The 46-year-old social scientist also previously researched gentrification at Berlin's Humboldt University. Holm recently admitted to having falsified his Stasi involvement on a form for the university in 2005. The Berlin government is currently awaiting the results of a investigation into the matter.
Before the collapse of the GDR, the Stasi, formally known as the Ministry for State Security, investigated, eavesdropped, spied on and arrested many of the communist state's citizens for activities considered treasonous or politically dangerous. The relationships of former East Germans to the organization varied widely - ranging from being targets of persecution to agency leaders to unwilling informers - and the agency continues to cast a long shadow of distrust through the present day.
cmb/tj (AP, dpa, AFP)