When 8,000 Korean nurses arrived in Germany during the 1960s, few of them thought they'd be staying in the country longer than their three-year contracts allowed. Thirty-seven years later, three of these women found themselves retiring to Korea with their husbands, the sole German residents of the seaside "German Village."
Replete with red-tiled roofs, garden gnomes and black bread for breakfast, the retirement community and its German inhabitants have become a must-see for many Korean tourists. They've also provided the inspiration for Sung Hyung-Cho's wistful documentary, "Endstation der Sehnsuechte" ("Home from Home").
Cameras followed these three couples through their everyday lives – watching as one man created his own sausages so he could get a taste of home and following another as he learned a traditional Korean dance. The women have different experiences, showing a real wariness toward settling in; as the movie played on, the discomfort these women feel in their birthland grew acute.
"We have no homeland and that is the tragedy of our lives," one of the women said. Though she'd long dreamed of returning to Korea, she told the camera, "The longer I live here, the more I think of Germany."
Heimat has no plural
It's this cross-cultural nostalgia that director Sung-Hyung Cho wanted to address in her film.
"A lot of people have two heimats (homes)," she told an audience at the Berlin and Beyond film festival running this week in San Francisco, California.
"In German, there is no possibility to have two homes – the word heimat has no plural. But I have two homes: Korea and Germany. When I finally felt at home in Germany, I simultaneously became frightened that I wouldn't be able to feel at home again in Korea."
It was that feeling that drove Cho to make the documentary – to explore the depths of homesickness, the bizarre emotional pull that two very different places can have on migrants.
An emphasis on diversity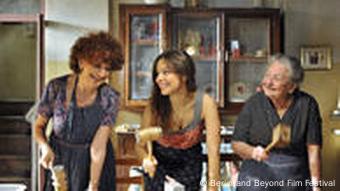 Another festival highlight was comedy-drama "Wedding Fever in Campobello"
"Home from Home" was just one of several award-winning films playing at the festival this week that added nuance to the extended immigrant experience while showing the diversity of contemporary Germany.
"Die Fremde" ("When We Leave"), the festival's centerpiece film directed by Feo Aladag, highlighted the plight of a German-born Turk who struggled to survive between two very different worlds in modern-day Berlin and Istanbul.
It's quite a different story than that shown in the flashbacks in the romantic comedy "Wedding Fever in Campobello". The violence and prejudice that the protagonist encountered just after his arrival in Osnabrueck in the 1960s are unflinchingly portrayed. Set alongside the modern-day story of his daughter's wedding, however, the film showcased what the children of these guest workers have lived through as they've attempted to balance two worlds, two cultures, two languages.
Still, the emphasis on the problems facing immigrants wasn't an intentional theme for Berlin and Beyond, said festival director Sophaon Sorn.
"We really wanted to empower the festival with a diverse program, one that shows a wide variety of human experience," said Sorn. "And San Francisco is a diverse city, it appreciates diversity, so we tried to find movies that would appeal both within the German community here and extend to a broader community as well."
Rudolf de Baey, director of the Goethe Institute of San Francisco, emphasized that diversity and immigration are both powerful elements in German society today.
"The reality of Germany is that it's just not a blonde-haired, blue-eyed country any more. And I think these films reflect that."
Author: Courtney Tenz
Editor: Gavin Blackburn