In good times, people take a moment for a grateful look back at the year that has passed, and make New Year's resolutions for the year to come. But are these good times? I can't seem to forget the past days and weeks: as never before, violence has shaped the headlines in the German capital. Take the incident on Christmas Day, when seven young men tried to set fire to a sleeping homeless man. How can I be living in a city where something like that happens?
Terrible crimes happened in Washington, too, where I lived for a few years. But I don't remember reading about such an inhuman act. Thank goodness, the man was saved and the perpetrators caught. They turned out to be asylum seekers, aged 15 to 21, six Syrians and a Libyan.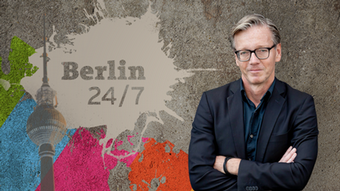 DW Berlin columnist Gero Schliess
2016: What a year
I was equally shocked by the news earlier this month that a Bulgarian man had kicked a woman down the stairs at a Berlin subway station. And then, the terrible truck attack on a Berlin Christmas market that brought an entirely new dimension of violence and terror to the city.
Even now, I still feel the shockwaves - and I'm full of admiration for how calm and undaunted Berliners have been in the days following the attack. It's characteristic for Berliners to defy fear, and for them to show up in the thousands to celebrate New Year's Eve at the Brandenburg Gate.
Other parts of Europe were hit much harder in 2016, the saleslady at the bakery tells me, referring to Paris, Nice and Brussels. That's what I like about Berliners: when the going gets tough, they persevere, they don't take themselves too seriously, they are strong - and they stay cool. And I'm reminded of the city's long, wretched history of conflict, division and the Berlin Wall that has made the city and its citizens immune to crises.
What will 2017 bring?
Hopefully, the new year will be better than 2016! But in 2017, citizens and politicians alike are bound to worry about security - up to and including Chancellor Angela Merkel, Interior Minister Thomas de Maiziere, the state of Berlin and its new government of Social Democrats (SPD), Greens and Left party members.
Until quite recently, Berlin's governing coalition has refused all calls for more video surveillance. That was misguided, as the recent arrests in the cases mentioned above were made thanks to video evidence.
But on Thursday, Berlin Mayor Michael Müller spoke out in favor of more video surveillance in the city. Berlin's government can prove whether it's truly anchored in reality when it announces new security measures in January.
Security, in fact, is all-encompassing topic in Berlin right now. And people are already looking ahead to the national election in September. It's not only about how we will be protected at the many election campaign events, but also about cybersecurity. How to prevent Putin's Russia from using hacker attacks and fake news to influence the outcome of the polls, as was allegedly the case in the US?
Politicians and journalists in Berlin are racking their brains. There were plenty of warnings in the past, but the German government only snapped to attention after the US election. I'm afraid it may be too late. Even if building a cyber defense system is less time-consuming than building a conventional army, it'll take time to make up for years of neglect.
Many Berliners aren't worried about cybersecurity as much as they are about social security, however - affordable apartments, adequate jobs and the integration of refugees are issues that have people up in arms.
Not to mention the divisions in the city itself, made clear in the September election: the Left party and the anti-migration Alternative for Germany (AfD) won double-digit votes in the less affluent districts on the city's fringes, neighborhoods consistently neglected by politicians. It's high time Mayor Müller and his team changed that.
Hopes for Berlin
Life goes on, but perhaps it won't be as carefree as before. Berlin, take care of yourself! Be vigilant, but stay as you are despite all the threats: compassionate, fun-loving - and keep cool. The last thing we need is for Berlin to lose its special "Berliner Luft" spirit.