The need for temporary housing has grown increasingly pressing as large numbers of migrants continue to arrive in Europe and the number of refugees worldwide has reached an all-time high. According to recent figures from the UN Refugee Agency (UNHCR), there were more than 59.5 million people displaced in 2014.
DMOA, an architecture and engineering firm based in Leuven, just east of Brussels, has developed a solution that it hopes will help: a new type of tent for refugee camps, one that's expected to last up to 15 years, five times longer than current tents. With the average refugee staying nearly 12 years in a camp, the firm has tried to develop something that goes beyond temporary housing.
"Sending just short-term solutions, such as [the standard tent], is not always the best solution," said Benjamin Denef, one of the architects behind the project, along with his colleague Bart Peeters. "If people stay for 10 or 15 years in a camp, they need something that is much more sustainable, along with solutions for education and health care."
'Like an Ikea kit'
The white, segmented structure is known affectionately as Maggie - after its resemblance to a maggot, Denef said. But he doesn't think the likeness will turn people off. Instead, he hopes the simple design and construction will allow it to be put to use in camps around the world.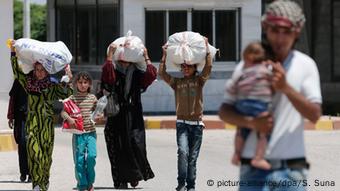 More than 59.5 million people were displaced in 2014, according to the UNHCR
"The goal will be that everybody can make it, just with a guideline," Denef told DW. "You don't have to send experienced workers. You just need a shelter coordinator and a team of five or six refugees. The idea is that it's totally user-friendly, and that it can be built like an Ikea kit."
The basic tent is 20 meters by 6 meters (about 65 feet by 20 feet), and can house up to 60 people. But the modular design allows it to be connected with other tents, allowing expansion to up to 100 meters in length. Based on a standard design, it can be produced locally from materials as varied as steel, wood and bamboo, using local techniques and infrastructure.
The tent, developed with universities and a number of government institutions, is designed so that it maintains a consistent indoor temperature between 16 and 27 degrees Celsius (60-80F) and can withstand gale-force winds up to 150 kilometers per hour (90 mph). It can be used anywhere from the frigid mountains of Syria and Afghanistan, to the arid Chadian desert or tropical rainforest in Congo.
The basic design is a simple canvas shell, but it can be built out with a hollow inner wall and roof that can be filled with whatever's on hand - sand, straw, standard insulation or even shredded trash - to provide further protection from extreme temperatures, reduce noise and allow for a feeling of increased security in crowded refugee camps. Inside, hooks, hanging shelves and cables can be added to customize the tent for use as school, medical center, warehouse or housing.
"The UNHCR asked us not to design a solution that is immediately plug-and-play, finished, very high-tech," Denef said. Instead, they wanted "low-tech solutions" that could be upgraded by refugees themselves.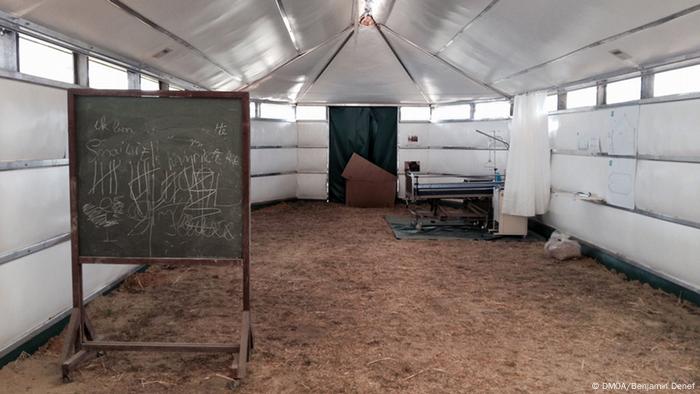 The Maggie tents can be adapted for many uses, including schools
'Withstand test of time'
"Innovation is very important," Frederik Smets of the UNHCR told the Belgian public broadcaster VRT. "Refugees are staying in camps for many years, and shelters that can withstand the test of time are needed - shelters that are stronger, and resistant to fire and wind."
Denef said the Maggie would have an initial cost of 2.5 times the price of the current standard tent per square meter, but pointed out that the sturdy, energy-efficient structure paid off in the long run.
For the moment, only one prototype has been built on the campus of the University of Leuven, and more research and development is needed before Maggie can be tested in the field. But, Denef said, there are plans to expand the program with test cases in Lebanon and Brazil in the near future.
If all goes well, Denef hopes that the first tents will be put to use by the end of the year.