In what was another acrimonious week for the Trump administration, the White House deployed Deputy Chief of Staff Katie Walsh to leave the government and focus instead on boosting outside support for President Donald Trump and his agenda.
Walsh is supposed to join America First Policies, a non-profit group founded earlier this year by Trump campaign staffers and tasked with publicly boosting the president's agenda after the White House felt it had received too little grassroots support for its effort to repeal and replace the Affordable Care Act.
In a move also tied to the Republicans' health care defeat, Trump this week lashed out via Twitter not only at Democrats, which could be expected, but also at the Freedom Caucus, the ultra-conservative Republican congressional group whose members had largely rejected backing House GOP leaders on health care.
Unperturbed conservatives
Most Freedom Caucus members, however, appeared unperturbed by the president's threat to unseat them in the next election cycle, stating publicly that instead of attacking them, the administration should better step up its legislative game and produce a better bill.
Capping what was widely seen as yet another bruising week for the Trump White House, one of the president's top advisers during the campaign stated, via his attorney, that he was prepared to talk to investigators in exchange for immunity from prosecution.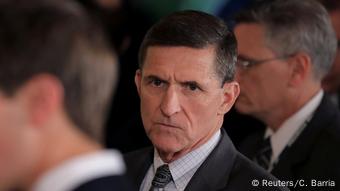 Flynn's layer says he 'has a story to tell'
Mike Flynn was also National Security Advisor until his ouster
Congressional intelligence committees as well as the FBI are currently probing possible Russian meddling in the US election process and potential Russian ties to the Trump team. Flynn was forced out his position because of what the White House said was his failure to fully disclose his contacts with the Kremlin's top diplomat in Washington.
Because Flynn is seen to have been privy to key discussions and developments in the Trump campaign and the White House, his attorney's remark that he "certainly has a story to tell" has been interpreted by many as willingness to share information that could potentially incriminate the Trump White House.
Puzzled observers
Also related to the issue of possible Russian interference, it was reported by "The New York Times" that House Intelligence Committee Chairman Devin Nunes was given information during an evening visit to White House grounds that could be interpreted as support for the president's previously unsubstantiated claim he was wiretapped by the Obama administration.
Taken together, just this week's developments involving Donald Trump and his close associates has left outside observers puzzled.
"This is unprecedented for a president to be facing this many difficulties this early in a first term," said Karen Hult, a scholar of the US presidency and chair of the political science department at Virginia Tech.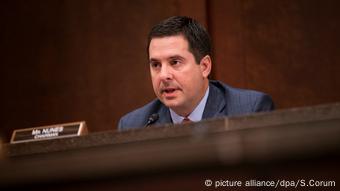 Nunes is under pressure to recuse himself from the Russia investigation
"This is an administration that doesn't really understand governing," saidGeorge Edwards III, chair in presidential studies at Texas A&M University. He believes Trump's threatening anger towards Freedom Caucus lawmakers, for instance, may be politically unwise.
"The Freedom Caucus will be in a position to torpedo anything that doesn't have bipartisan support, and these days there isn't a lot that has bipartisan support," said Edwards.
'Unforced errors'
The only way, he added, that Trump would able to win the group's backing is by tacking hard-right, which he is unlikely to do, since that would alienate less conservative Republicans. What's more, said Edwards, the president's threat to unseat them is empty, because it would mean he would have to support an even more conservative opponent to challenge Freedom Caucus members in their mostly very conservative districts.
"That's not going to happen," said Edwards. "This is not smart, it is just unforced errors."
"It does seem dangerous," agreed Virginia Tech professor Hult, adding "it is a sign that he didn't seem to fully grasp that a lot of the members of the freedom caucus have really strong ideological values."
The impact of the steady stream of new, but often opaque, revelations about real and alleged contacts of Trump associates with Russia is more difficult to gauge. What seems certain, however, is that the story about Trump associates' possible Russian connections will not go away anytime soon, and that is bad news for the president.
"There is intrigue built atop of intrigue it looks to me," said Hult. "And clearly what's happening is that it is occupying so much attention in the Washington community and the global press that it is taking attention away from things Trump wanted to be concrete on."
Reshaping EPA
A clear path out this unprecedented slump for Trump - no other president has had such low approval ratings this early on - is not in sight, as building a lasting coalition with a faction like the Freedom Caucus appears as difficult as working with the opposition Democrats. But those efforts, according to Edwards, are also bound to be stymied by the fact that, at least so far, this White House seems like an administration that is incapable of learning from its mistakes.
"All administrations have challenges in the beginning, but this administration just seems to be really characterized by blinders," he said. "I think there is growing sense that he is not up to the job."
While it may be true that Trump is finding it hard to pass key pieces of promised legislation like the healthcare bill, the travel ban or even tax reform, said Edwards' colleague Hult, even during this tumultuous beginning he is already drastically reshaping the government on many issues, including economic and environmental policy.
"We do know that things are continuing to move in executive branch agencies. At the EPA, for example, [Administrator Scott] Pruitt is taking actions on his own and stopping rules going forward."