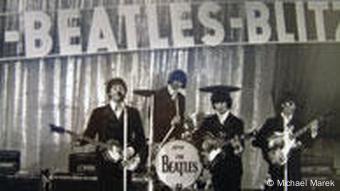 The Beatles on stage in Hamburg, the city where the band signed its first record contract
In the early sixties, the Beatles were a relatively unknown band when they first played in Hamburg. Their first of many shows in the north German port city was at the Indra Club on August 17, 1960. At the shows in Hamburg, the band (then with five members) would play for hours, often playing several clubs in the same night.
Through these early concerts, the Beatles began to develop the sound that would come to be their trademark. It was also in Hamburg that Ringo Starr made his first appearance as the band's new drummer.
Beatlemania
The Beatlemania museum takes visitors to a time when the Beatles were all the rage. The walls duplicate the style of the Hamburg clubs where the band once played, and there's Beatles memorabilia of all kinds. One room is decorated to look like the bedroom of a young Beatles fan, filled from top to bottom with Beatles collectables.
Visitors can marvel over the original version of the Beatles' first record contract, which was signed in Hamburg, or read postcards sent by Ringo Starr to his grandmother in Liverpool, in which he sings the praises of the German city. There are even womens' stockings with a Beatles logo woven in.
Further on in the museum, visitors can sneak a peak backstage at a Beatles concert, or sit in a theater filled with a recording of hysterical screams from Beatles fans. The famous Abbey Road studios in London have been recreated, and trips with Captain Fred aboard the Yellow Submarine depart all day long.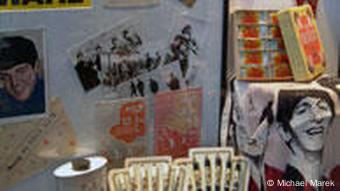 Beatles collectables are on display at the Beatlemania museum
Beatles Blitz
The museum is anticipating around 200,000 visitors per year, and Beatlemania will certainly add to Hamburg's attraction for Beatles' fans. There's a constant stream of questions coming in from people around the world wanting to know more about Hamburg's links with the Beatles. But one question remains: why was Hamburg the city where the Beatles got their start? That's a question Uwe Blascke, one of the museum's founders, feels no need to answer.
"That question answers itself," he says. "If a band has a museum, we don't really need to discuss how or why they got so big. You just have to listen to one of their records."
And if the music isn't enough, you can always visit the museum gift shop and pick up a Ringo Starr coffee mug, t-shirts with Beatlemania logos, Beatles beer coasters – even a Beatles umbrella.
Author: Michael Marek / mz
Editor: Susan Houlton