It is the season of good will, it is the season of merchandising. Soccer fans in Germany seem happy to combine the two.
"We have special articles that are only produced for Christmas time -- Christmas jerseys, in co-operation with our sponsor, which sold very well," said Mathias Serba, CEO of BVB Merchandising, describing what is on offer for Borussia Dortmund fans.
"We have sweets that we sell for Christmas like chocolate Santa Claus and advent calendar Christmas chocolate," he added. "Besides that we have seasonal articles like scarves and gloves that sell very well because of the weather."
As Germany gets ready to host the World Cup next year, shops selling articles for soccer fans have already been doing a brisk business this Christmas. In Germany, there's a whole industry that mixes goals with Glühwein, or mulled wine. As well as promoting regional culinary specialties, it has almost everything else the discerning fan could possibly want for the festive season.
Ornaments, cookies and other goodies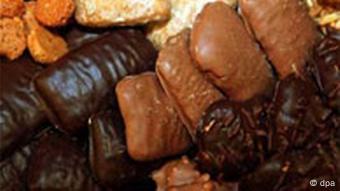 Specialties such as Aachener Printen Christmas cookies are also offered
Almost all the clubs, whether Hertha BSC Berlin, Arminia Bielefeld or FC Bayern Munich, sell chocolate advent calendars to help pass the time before the day the jersey is put under the Christmas tree arrives.
Ornaments in the club's color for decorating the Christmas tree are also popular. Hamburg's FC St. Pauli fans can buy them in black with a skull and cross bones.
Hungry fans can tuck into those regional mouth-watering German Christmas delicacies which come in special fan packaging. The border town of Aachen is famous for its Aachener Printen -- Christmas cookies -- they're being sold in a wooden box with the emblem of the local club Alemannia Aachen -- a big letter A in yellow on a black background, perched above an eagle.
Fans of FC Bayern Munich can order a set of three liter bottles of Glühwein. On the label is Santa Claus, clad in the characteristic red of Bayern Munich. And on their Web site, they sell fruit tea as well.
Win a jersey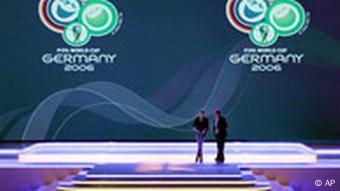 The 2006 World Cup is increasing sales
There is also an advent quiz on the website of the DFB, the German football federation, inviting readers to find Santa Claus who is hiding somewhere on the site. At the last count, there were 171 jerseys still to be won as prizes.
Fans of FC Nürnberg can send Christmas greetings on a seasonal club postcard and almost all clubs sell Christmas stockings in club colors. But which gift really sells better than all the others.
"It's definitely the jersey, the Christmas jersey as well as the normal home jersey," Serba said.