Germany's "Der Klassiker" started unusually for Bayern Munich as Dortmund held on to the ball well and put pressure on Bayern as soon as the guests were in possession. But it was Bayern who ended up looking the most dangerous, after former BVB striker Robert Lewandowski beat Dortmund's last man twice to charge through on goal. On the first occasion he was whistled up for knocking over Nevin Subotic, on the second, for being just offside.
The game became increasingly rough and ready thereafter as both sides tried to put their, er, stamp on the game. Experienced referee Knut Kircher eventually reined in the players, giving Bastian Schweinsteiger and Pierre-Emerick Aubameyang yellow cards for late tackles.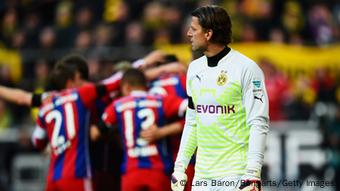 Dortmund's keeper Weidenfeller after Bayern's lone goal
Bayern put ever more pressure on Borussia Dortmund and, in the 36th minute, it was Lewandowski who finally struck after a Thomas Müller run.
Müller's left-foot shot on goal was blocked by Dortmund's advancing keeper Roman Weidenfeller, but the ball bounced towards Lewandowski who out-jumped BVB's defense to head the ball home. It was the Pole's 14th Bundesliga goal of the season.
Dortmund tried their luck a few times before the break, but they weren't able to create any sort of chances in Bayern's final third. The league leaders were seemingly happy to defend and take a lead into the break.
After the match, Bayern's Philipp Lahm confirmed that the team had changed its approach to compensate to a number of injuries, including to stars Franck Ribery, Arjen Robben and David Alaba.
"It was a sensible strategy," concurred Dortmund coach Jürgen Klopp. "It worked."
Dortmund fight back, but to no avail
Dortmund started positively in the second half, led on by a more dynamic Marco Reus. The Dortmund midfielder was fouled in the box in the 48th minute by Jerome Boateng but it wasn't enough to earn a penalty.
It was Reus, too, who had Dortmund's best chance on goal, after he dashed through in the minute 60, only to send his strike inches wide. Aubameyang also missed the target from a similar position just minutes later.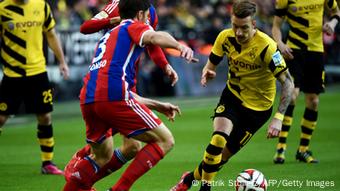 Marco Reus did his best, but wasn't able to crack the Bayern defense in the second half
The rest of the game saw Bayern defend strongly, while Dortmund lacked precision in their attacking moves. Bastian Schweinsteiger was forced to leave the pitch after damaging his left ankle in a first-half challenge. It could be another serious absence to add to coach Pep Guardiola's long list of missing stars.
There was a highlight for Bayern fans in the second half though, when Philipp Lahm was replaced by Thiago in the 68th minute. The Spaniard was returning to the pitch for the first time in a year after injury.
Things did get interesting in the final minutes after Dortmund were awarded a free kick just outside the penalty area. Reus' shot was well directed, but Germany's national team keeper Manuel Neuer made a stellar save on the line to secure Bayern the three points.
"We didn't do much wrong," a philosophical Klopp said. "It just wasn't enough."
The league leaders stay 10 points out in front of second-placed Wolfsburg. Dortmund, in contrast, remain rooted to the middle of the table. It was their third game in a row at home in which they failed to score.