Normally the coach to welcome in the new head coach at Bayern Munich, Hermann Gerland will soon be in charge of finding and developing the latest young stars at the club. The 62-year-old Bayern legend will be sporting director of the club's new youth academy in the summer.
Gerland, currently one of Ancelotti's assistant coaches, has worked in the club's youth set-up in the past and played a leading role in bringing the likes of Philipp Lahm, Thomas Müller, Holger Badstuber and Bastian Schweinsteiger to Bayern's first team.
After working with Jupp Heynckes, Louis van Gaal, Pep Guardiola and now Carlo Ancelotti, Gerland is one of the most experienced coaches around. "What's happened in the last few months near the Allianz Arena is unbelievable. I'm delighted to be a part of this exciting project and to bring my experience to working with younger players," Gerland said.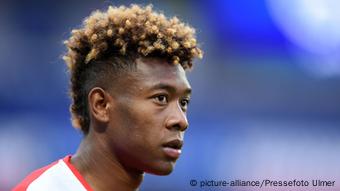 Austrian international David Alaba was the last man to make the jump to the first team
Keen to turn weakness into strength
Bayern president Uli Hoeness has set expectations high. "If you have something as great as this, then you should be able to dig out a player for the first team every three years. We have to measure our success with how the situation is in five years," Hoeness said recently. The 65-year-old added that a club like Bayern "couldn't allow the next five years of youth work to be the same as the last five" and that the club's work in this regard was its weakness.
The last Bayern player to make the jump from the youth academy and stay in the first team was David Alaba back in the 2011/12 season. The likes of Pierre-Emile Hojbjerg, Gianluca Gaudino, Emre Can and Julian Green found Bayern's first team too big an ask. Bayern's U19 team haven't been crowned German champions in 13 years.
Gerland will start work in his new role in the summer when the new, 70-million-euro ($73.5 million) academy will be opened near the club's stadium in the north of the city. Gerland will work with Jochen Sauer. The 44-year-old has previously worked at Hertha Berlin and Wolfsburg, but was most recently at Red Bull Salzburg. Previous head of the U16-U23 teams, Heiko Vogel, will leave at the end of the season.
jh/ (SID)