Speaking in New York on Wednesday, Bayern Munich chairman Karl-Heinz Rummenigge could not hide his disbelief of the way Jose Mourinho has treated Bastian Schweinsteiger at Manchester United.
The new Red Devils boss has reportedly ordered Schweinsteiger, who moved to the club last summer, to train by himself and with the reserves. British media also reported on Monday that the former Germany captain had to clear his locker in the changing room.
"Nothing like that has happened at Bayern Munich, and will never happen at Bayern Munich," Rummenige said. He urged players to think long and hard about whether they want to join clubs "who treat players radically when they no longer want them."
Former Bayern coach Ottmar Hitzfeld, who gave Schweinsteiger his professional debut in 2012, could not understand Mourinho's approach either.
"It's a lack of respect for a player of merit," Hitzfeld told the RedaktionsNetwork. "It's a method which is strange to me."
Indicting Mourinho
Dejan Sefanovic, a lawyer and a Slovenian member of football players union FifPro, told the BBC World Service that he would have tried to put Mourinho behind bars.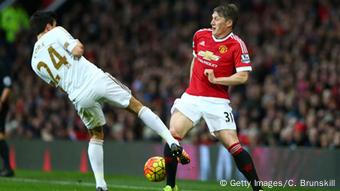 Schweinsteiger looked for a new challenge in England, but Jose Mourinho has left him in the cold.
"It's clear bullying," Sefanovic said. "In Slovenia, we would have indicted Mourinho and asked for the highest penalty - three years in prison."
"Schweinsteiger should turn to the Professional Footballers' Association and he should file a complaint and I would also seek penalty for Mourinho," Sefanovic continued. "All of the players of the first team have to train with the coaches of the first team at the same place, and the same time as other teammates."
Ancelotti rules out Bayern return
While his future at Manchester United is bleak, Schweinsteiger's prospects at his former club are not much better. Speaking after Bayern's 1-0 loss to Real Madrid in a friendly in New York, new Bayern coach Carlo Ancelotti has ruled out a return for the former Germany captain.
"Schweinsteiger plays no role in our planning," said Ancelotti. "He is a fantastic footballer, but now is not the time to come back to Munich."
dv/mds (AFP, Reuters)