Bayern Munich chairman Karl-Heinz Rummenigge claimed this week that the club would not extend contract talks with German international Michael Ballack with both parties set for a showdown meeting within the next 10 days.
Ballack is out of contract at the end of the season and has so far refused to sign the lucrative four-year extension put forward by Bayern.
"We do not want this issue to drag on," Rummenigge told Bild daily on Thursday. "Michael Ballack and his agent Michael Becker will meet with us in the middle of October and then he will inform us whether he accepts our offer or not."
Ballack has been strongly linked with Manchester United, Inter Milan and Real Madrid and his agent, Michael Becker, has admitted to testing out the market value of his client.
"Bayern took a long time putting their offer on the table," Becker told Kicker magazine. "It is only fair that we look around and see if this offer fits the market value."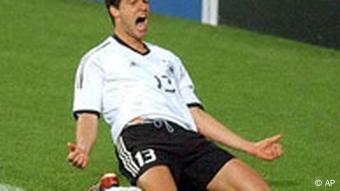 Despite missing the final, Ballack's preformances at the 2002 World Cup helped his team make it.
The increasing speculation surrounding Ballack and the much-publicized links to some of the world's top clubs is testament to how coveted the Germany midfielder has become. Ballack's stock has been rising steadily since he almost single-handedly dragged his largely unimpressive team mates to the World Cup final in 2002.
World Cup season brought Ballack into focus
But he first caught the eye of European suitors after his display in 2002 Champions League campaign when he led Bayer Leverkusen to the final, which they narrowly lost 2-1 to Real Madrid.
Ballack's performances that year signaled to the world that there was a precocious talent in the ascendancy in Germany -- he was just 25 -- and many clubs ran the rule over him as a possible midfield general to drive the heart of their teams.
However, while most hesitated with the check book, Bayern didn't and got to him first. Ballack left the disappointment of an empty-handed season at Leverkusen to sign for the Munich giants for 6.3 million euros ($7.6 million) after the World Cup.
It was a step-up that looked like it may never happen. Despite being a talented youngster at a handful of semi-professional East German clubs, it was only after his 1997 transfer from Chemnitzer FC to Kaiserslautern that Ballack made it onto the big scene. And even then it was a bittersweet affair.
Shy East German labeled "too soft" for Bundesliga
Although Kaiserslautern were crowned champions of Germany a year after he joined, Ballack had played just a minor role. He clashed with coach Otto Rehhagel and was labeled too soft and inconsistent for the Bundesliga and moved on.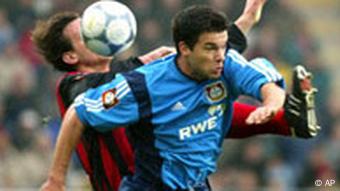 He then joined Leverkusen for 3.6 million euros in 1999, demanding the No.13 shirt on his arrival, once the property of local hero Rudi Völler, "to provoke a little." Then he got injured.
Things got worse when he went on to score an own goal that cost Leverkusen the Bundesliga title -- he cried on the pitch afterwards -- and at Euro 2000 was granted only 63 minutes of play for the national team.
Change of position and attitude
But a transformation then occurred. A change of position from a holding role to attacking midfield brought the best out of Ballack, a player comfortable with arriving late as support for the strikers and one capable of scoring goals.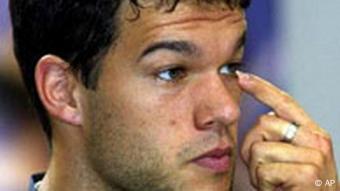 Another took place in his head. Ballack began to cultivate the supreme self-confidence that has led to many calling him arrogant. A sports magazine ranked Ballack third in a list of footballers most disliked by Bundesliga players in a poll taken in 2002 with many stating his attitude behind their reasoning.
Coveted star despite "arrogant" claims
Managers and coaches, however, loved the new Ballack. Offers flew into the Leverkusen office for "the little Kaiser" -- Bayer's general manager Rainer Calmund's nick-name for Ballack -- from Real Madrid and Barcelona in particular. But the player who, with his straight-backed run and curly dark hair prompted comparisons with the young Franz Beckenbauer, was not ready to leave Germany at that point.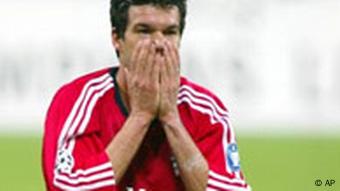 Three years, two Bundesliga and German Cup titles later and it may be a different story for Michael Ballack. With Manchester United looking for a long-term replacement for soon-to-be-departing midfield icon Roy Keane and Real Madrid in need of some steel in the center, Ballack could be on his way out.