In an interview aired by German broadcaster "BR Fernseher" on Wednesday night, Bavarian Interior Minister Joachim Herrmann (CSU) said current procedure at Germany's borders needed to be changed.
"Anyone who enters the country without papers and cannot prove their identity must firstly be detained at the border and checked," Hermann said.
The Bavarian Interior Minister also called for faster processing at the Federal Office for Migration and Refugees in Nuremberg.
Shortcomings in asylum procedures
Hermann's demands on Wednesday came two days after a 17-year-old asylum seeker, initially believed to be from Afghanistan, launched an attack on a regional train near the Bavarian town of Würzburg.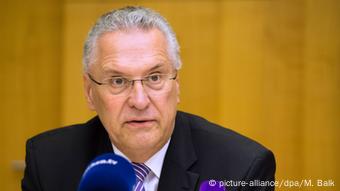 Bavarian Interior Minister Joachim Herrmann has demanded tighter border controls
The Würzburg attacker was shot and killed by police after injuring five people on a commuter train earlier in the week. Two of the victims of the attack remain in a critical condition, according to local police sources. All but one of the victims reportedly came from Hong Kong.
Since first arriving in Germany in June 2015, the assailant's asylum application never progressed.
"He was never given a consultation," Hermann criticized, adding that the perpetrator's fingerprints were also never taken.
"One of the shortcomings that we have complained about for months, is that we still don't really have regular and orderly procedures and that there are still thousands in our country, with whom the procedures aren't properly carried out."
Fears of a divided society
Earlier on Wednesday, German investigators said they had found clues that the perpetrator in Monday's attack was perhaps, in fact, from Pakistan.
According to officials speaking to German national broadcaster ZDF, the assailant may have claimed that he had emigrated from Afghanistan in order to better his chances of being granted refugee status in Germany. His given age of 17 may also have been incorrect.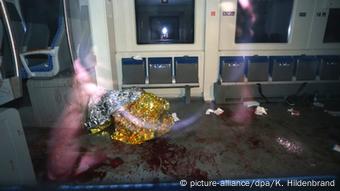 Two victims of Monday's attack remain in a critical condition
German Interior Minister Thomas de Maiziere confirmed that a video of the young man circulated by "Islamic State" (IS) supporters was authentic.
Amid fears that the attack could increase negative sentiments towards refugees, de Maiziere urged the many Germans who had previously volunteered to help refugees to keep doing so.
A representative from the Federal Association for Unaccompanied Minor Refugees, Niels Espenhorst, shared a similar message, saying that in light of the attack, refugee minors were at risk of being ostracized and alienated.
"We have to warn people against placing unaccompanied minor refugees as a group under a general sense of suspicion of being terrorists," Espenhorst said.
ksb/gsw (AFP, Reuters, dpa, epd, KNA)