Indonesian authorities on Monday raised the alert status of an erupting volcano in Bali to the highest level, ordering up to 100,000 people within 10 kilometers (6.2 miles) of the crater to evacuate. Indonesia's disaster mitigation agency said the alert was raised "in anticipation of the possibility and imminent risk of disaster."
Mount Agung, an active volcano on Indonesia's resort island of Bali, erupted on Sunday, sending ash 3,000 meters (9,840 feet) above the crater, according to disaster management officials. "Constant tremors can be felt," said volcanologist Gede Suantika.
The alert was raised after the volcano shifted from steam-based eruptions to magmatic eruptions, said Kasbani, who heads Indonesia's geological agency.
"We don't expect a big eruption but we have to stay alert and anticipate," said Kasbani, who goes by one name.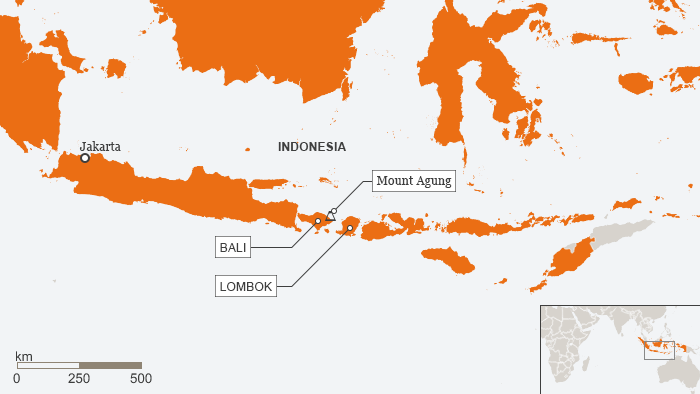 Air traffic affected
Officials said Bali's Ngurah Rai international airport will be closed for 24 hours due to ash clouds.
A small international airport on the nearby island of Lombok, a tourist destination east of Bali, was closed on Sunday evening as wind blew ash in the direction of the island.
Read more: A punk band's mission to save Bali's nature
Air traffic tracking site FlightRadar24 posted an image of flights being redirected after authorities issued the alert.
Tourists stranded
Flight cancellations throughout the weekend and Monday left tens of thousands of tourists stranded.
AirAsia canceled over 30 flights on Sunday, and Virgin, KLM and Air Asia Malaysia canceled several flights on Saturday.
Read more: Selfie with Hitler: Indonesia wax museum removes Nazi-themed exhibit
In September, authorities raised the volcano alert to the highest level, prompting more than 130,000 people in an increased evacuation area to flee the area amid fears of an imminent eruption. Many had since returned.
The volcano's last major eruption happened in 1963 and left more than 1,100 people dead. Indonesia straddles the Pacific Ocean's "Ring of Fire" and is home to more than 120 active volcanoes.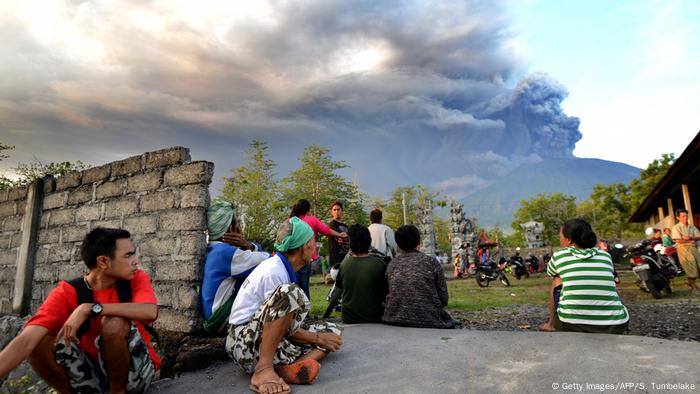 Crowds gathered to watch the volcano erupt
ls, rs/aw (AP, AFP, Reuters, dpa)