Official Iranian media reported that Montazeri "passed away in his home last night." He was 87. State broadcasters said he had suffered from a number of ailments, including asthma and coronary problems.
Right up until his death, Montazeri had repeatedly accused Iran's ruling Islamic establishment of imposing a dictatorship in the name of Islam.
His criticisms made him a hero among the opposition, especially after the country's disputed presidential elections last June.
His fierce criticism of President Mahmoud Ahmadinejad's foreign and domestic policies and nuclear standoff with the West was particularly stinging because of his status.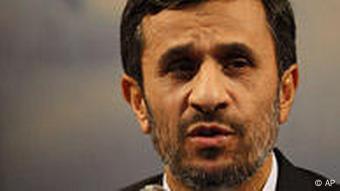 Iran's president was often the brunt of Montazeri's monitions
Not popular with the ruling establishment
Montazeri had once been designated to succeed supreme leader, Ayatollah Khomeini, the late founder of Iran's Islamic Republic in 1979. A falling-out with Khomeini resulted in him being replaced by the current supreme cleric, Ayatollah Ali Khamenei.
The official IRNA news agency said of Montazeri that "he acted as the clerical figure of rioters in the post-election incidents and his unfounded statements were widely welcomed by anti-revolutionary media."
Montazeri's death comes at a time of increasing tensions after pro-opposition students clashed with police earlier this month.
Thousands of Montazeri supporters were reported to be traveling to attend his funeral on Monday in the Shi'ite holy city of Qom.


gb/AP/AFP/Reuters
Editor: Andreas Illmer