Incumbent President Heinz Fischer has been re-elected with 78.9 percent of the vote, according to final results released Sunday. The numbers do not include absentee ballots.
The anti-immigrant, far-right Party of Freedom's candidate, Barbara Rosenkranz, received 15.6 percent. Ultraconservative Austrian Christian Party candidate Rudolf Gehring received 5.4 percent.
The other major parties decided not to field candidates for the mainly ceremonial office. Neither the center-right Peoples' Party nor the Greens thought they could defeat Fischer, who enjoyed continuously high popularity ratings during his first six-year-term.
Turnout for the election was low, with just 49.2 percent of voters going to the polls. That's compared to a 71.6 percent turnout during the last presidential elections in 2004.
Questions over right-wing sympathies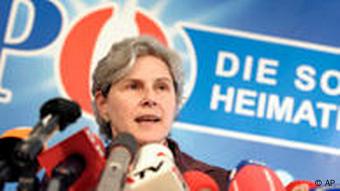 Rosenkranz would 'damage Austria's image,' says Fischer
In his campaign, the 71-year-old Fischer presented himself as a calm bridge-builder between Austria's political camps.
He also stressed that the choice was between him, a statesman, and Rosenkranz, whose tainted reputation he said could potentially damage Austria's image abroad.
Rival parties and religious groups have attacked Rosenkranz over her earlier opposition to an existing constitutional law which bans neo-Nazi activities, including Holocaust denial.
The 51-year-old mother of 10 formally retracted her position. Nevertheless, even the chief of Rosenkranz's Party of Freedom later appeared to distance himself from her.
After the vote on Sunday, Rosenkranz said she was "not happy... but generally satisfied" with the result.
svs/glb/AFP/dpa
Editor:Kyle James