As coalition talks continue between the center-right Austrian People's Party (ÖVP) and the nationalist Freedom Party (FPÖ), the human rights pressure group SOS Mitmensch has posted a video on Facebook in which an 86-year-old Holocaust survivor reminds viewers of the lessons of history.
Rudolph Gelbard was imprisoned at the Theresienstadt concentration camp from 1942 to 1945. Nineteen members of his family were murdered by the Nazis.
Read more: Austria's Sebastian Kurz turns to far-right FPÖ for coalition talks
Though many Facebook users left comments thanking Gelbard for his "courageous" and "important" words of warning against far-right parties in government, others reacted with hate; some even insinuated that the interview was scripted and the Holocaust survivor was not speaking his own words.
"How many people have been killed by other groups in the last 80 years?" one person wrote. "Why do we always have to talk about the Holocaust?"
Another user attempted to cast doubt on the Holocaust altogether: "There are also people who have a different version."
"There were personal insults, slurs, historical revisionism," SOS spokesman Alexander Pollack told DW.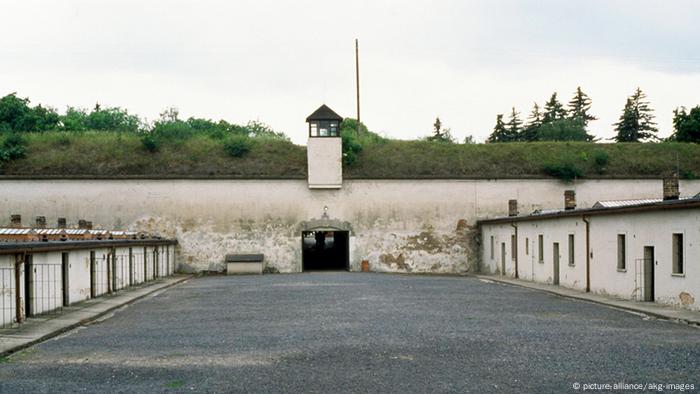 Tens of thousands of people died at Theresienstadt in Nazi-occupied Czechoslovakia
"It was quite surprising," Pollack said. "We had to delete many comments. Anything that verged on anti-Semitism, racism, any threats of violence or comments which downplayed National Socialism — it all had to go."
Though Pollack acknowledged the website's role in helping SOS spread its anti-extremist message, he noted that "Facebook encourages discussion, but at the same time it opens the door to hate."
SOS Mitmensch was formed in 1992 to protest a referendum organized by the FPÖ that asked voters to effectively halt immigration, reduce access to public services for noncitizens and increase policing of "foreign" communities. Only about 7 percent of registered voters turned out for the FPÖ's "Austria First" initiative.
Nazi fraternities
In the video, Gelbard particularly criticizes the continuing central role of Nazi-linked academic fraternities in the FPÖ.
"This why a party which is infiltrated by such people — namely these fraternities — does not belong in the Austrian government," Gelbard says.
Read more: Austria's Freedom Party is 'here to stay' after strong election results
The FPÖ, Gelbard adds, was the only party in the state parliament of Carinthia to oppose building a memorial at the former Gestapo headquarters in the capital, Klagenfurt.
"Die Aula has [also] called us former concentration camp prisoners criminals," he says, referring to a quasi-academic journal closely linked to the FPÖ.
Coalition talks underway
The FPÖ is in coalition negotiations with Sebastian Kurz's ÖVP, which won the most votes in October's elections. With just 32 percent of the vote, however, he came up short of a majority.
The center-left Social Democrats (SPÖ) came in second, with about 26.9 percent, closely followed by the FPÖ, at 26 percent.
Kurz has said his party holds common ground with the FPÖ on several issues — particularly immigration. Both parties have also promised billions in tax cuts.
Taming the wolf
Founded in 1955 and first led by a former SS officer and several fellow Nazis, the FPÖ has worked to rehabilitate its image with more moderate voters by toning down its rhetoric against foreigners in general and focusing on an anti-Islam campaign.
The head of the Vienna Israelite Community, which represents the capital's Orthodox Jews, has warned that the FPÖ is still highly xenophobic.
Read more: Austrian Jewish leader warns against working with far-right Freedom Party
"If ÖVP and SPÖ believe they can tame the wolf, they are deceiving themselves," Oskar Deutsch said in an open post on Facebook, adding that any government involving the FPÖ would be "irresponsible."