A day after a sizeable majority of Australians voted to overturn a ban on same-sex marriage, Australian MPs on Thursday began debating a bill that will allow the LGBT community to wed.
Dean Smith, a gay senator with the ruling center-right Liberal Party, has tabled a bill that will limit those who could legally refuse to take part in same-sex unions to churches and ministers of other religions.
Smith broke down during an emotional Senate speech that followed a "Yes" vote by nearly 62 percent of Australians in a two-month non-binding national poll on the issue.
"As a young man I never believed I could serve as a senior advisor to a prime minister or a premier because I was a gay man," he told parliament. "I never believed the day would come when my relationship would be judged by my country to be as meaningful and valued as any other."
Read more: Germans celebrate first gay marriages
Smith went on to say that the public vote result was "a glimpse of the country we all yearn for, a country that is fair-minded, generous and accepting."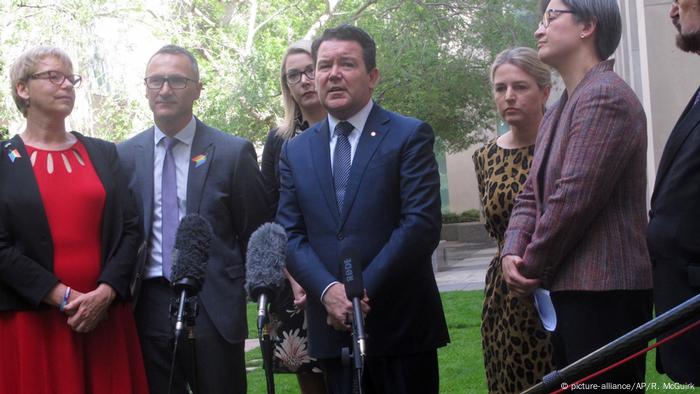 Senator Dean Smith has proposed legislation that will introduce marriage equality with some opt outs for religious groups
While his bill has cross-party support, he warned those opposed to same-sex marriage that any amendments to the legislation would be quickly voted down.
"Let me be clear: Amendments that seek to address other issues, or which seek to deny gay and lesbian Australians the full rights,
responsibilities and privileges that they already have will be strenuously opposed," Smith warned the Senate.
Opponents prepare own bill
James Paterson, another Liberal Party senator, has proposed a bill that will broaden the list of people who can refuse to provide services to LGBT couples to businesses and other individuals with a "religious or conscientious belief." They could include those who provide cakes, flowers or a venue.
Some of the country's top lawyers have called Paterson's bill "dangerous," warning that it would weaken Australia's anti-discrimination laws in an unprecedented way.
Read more: Gay marriage becomes legal in Ireland
Discrimination on the basis of sexual orientation is illegal in Australia outside religious institutions.
Eight other senators gave speeches after Smith in support of his bill before the session was adjourned.
The two-month public vote on marriage equality was called by Prime Minister Malcolm Turnbull, who vowed to introduce parliamentary legislation to equalize the country's marriage laws if a majority of the public approved of the move.
The government said the first LGBT marriages could take place before Christmas if the legislation can be rushed through parliament before it breaks up for the holidays on December 7.
mm/sms (AP, dpa)