Amnesty's findings, based on interviews with crew members in prison, appeared to support earlier news reports of the May incident, but the government, then led by Tony Abbott, has persistently refused to comment.
Immigration Minister Peter Dutton rejected Amnesty International's Thursday report -- which follows previous accusations Australian authorities had paid off people-smugglers -- as a "slur" and said Australia would not change its hard-line policies.
The minister told commercial radio 2GB that Amnesty did not like the government's policy "and the fact we've stopped the boats, but we are not going to stop our resolve."
"I think in the end you can take the word of the people-smugglers or you can take the word of our staff at Australian Border Force and people will make their own judgments," he said. "We're not going to be bullied into some watering down of that, because people drown at sea and our detention centers fill."
Report probes May incident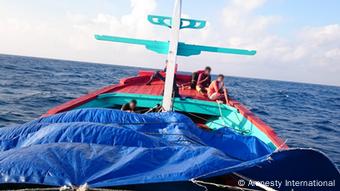 A photo perportedly taken by an asylum-seeker on a two-deck boat, prior to interception by Australian Navy and Border Force ship in May 2015.
The report claims that government officials were "complicit in a transnational crime" in May when they paid people smugglers $32,000 (29,255 euros) to take a boat carrying 65 asylum seekers bound for New Zealand to an Indonesian port.
The London-based human rights monitor says this could constitute illegally funding human trafficking.
On Thursday, Amnesty International took out full-page ads in Australian newspapers to publicly accuse border protection officials of illegally paying people smugglers and endangering lives in their efforts to prevent asylum seeker boats from reaching Australia.
"Such turnbacks violate the principle of non-refoulement, which says refugees cannot be sent back to countries where they are at risk, and also deny people the right to have their asylum claims assessed," the group said.
Foreign Minister Julie Bishop told reporters the charges aren't true.
"Our Australian officials operate in accordance with domestic Australian law and in accordance with our international obligations," she said.
But Australia's Fairfax Media reported in June that an Indonesian police investigation had concluded smugglers had been paid more than $30,000 to take a boat loaded with asylum seekers back to Indonesia.
Government ministers at the time denied that the Australian Border Force and defense officials ever paid money to people smugglers, but their denial did not extend to intelligence operatives.
Thousands of asylum seekers have flown from Africa, Middle East, Central and South Asia to Indonesia to board rickety fishing boats for the voyage to Australia.
Under the previous Labor-led government, at least 1,200 people died trying to reach Australia by boat between 2008 and 2013.
jar/kms (AP, AFP, dpa)