Australian Foreign Minister Julie Bishop called on Indonesia to spare the lives of convicted heroin smugglers Andrew Chan and Myuran Sukumaran, whom Jakarta said last week were part of a group it was preparing to execute by firing squad.
The pair were convicted in 2006 as the ringleaders of the so-called 'Bali Nine' group, caught in 2005 trying to smuggle 8.3 kilograms (18.3 pounds) of heroin out of Bali. Sentences in the case ranged from 15 years' jail to death.
Chan, 31, and Sukumaran, 33, recently lost their final appeals for clemency from Indonesian President Joko Widodo, a vocal supporter of capital punishment. Lawyers for Chan and Sukumaran on Wednesday lodged a rare legal challenge to the president's decision.
Bishop told parliament in Canberra the pair had made "shocking mistakes," but deserved another chance.
"This motion goes to the heart of what we believe will be a grave injustice against two Australian citizens facing execution in Indonesia," she said.
"We are not understating the gravity of the nature of these crimes. Without doubt, Andrew and Myuran need to pay for their crimes with lengthy jail sentences but they should not need to pay with their lives," Bishop said. "Both men have made extraordinary efforts to rehabilitate."
Hundreds of Indonesians face death penalty abroad
Bishop said the Indonesian government was trying to seek the release of more than 200 citizens facing the death penalty overseas.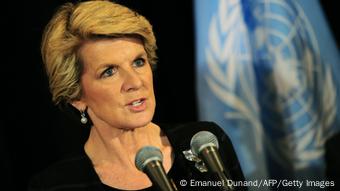 Australian Foreign Minister Julie Bishop
"We urge the Indonesian government to show the same mercy to Andrew and Myuran that it seeks for its citizens in the same situation abroad."
Australian judge Lex Lasry said this was relevant to the case of Chan and Sukumaran.
"Indonesia itself of course is endeavoring to do what it can to save the lives of Indonesian citizens who are on death rows in other countries. That's obviously relevant to this case and it may well be that other countries are saying, 'Well, in order for us to be sympathetic to your cause on behalf of your citizens, we need to consider what you are proposing to do to not just the two Australians, but another seven or eight people,'" Lasry told ABC TV's 7.30 program.
Lasry said the men are holding up well but are "extremely apprehensive."
The executions threaten to strain already fragile relations between the two countries. Tensions flared in 2013 after reports Canberra had spied on top Indonesian officials - including the former president Susilo Bambang Yudhoyono and his wife.
Indonesia executed six people for drugs offences in January, five of them foreign nationals from Brazil, the Netherlands, Nigeria, Malawi and Vietnam.
jr/msh (AP, Reuters, AFP)