Approximately 300 survivors of the Auschwitz-Birkenau death camp returned to the site on Tuesday to mark seven decades since its liberation. On January 27, 1945, soldiers from the Soviet Red Army arrived at the Nazi camp near the then-occupied southern Polish town of Oswiecim to find piles of dead bodies and some 7,000 traumatized, ill and starving survivors.
The day has since become known as International Holocaust Remembrance Day.
Tuesday's main commemoration ceremony began with a somber musical performance.
Polish President Bronislaw Komorowski opened the ceremony, telling the gathered crowd they were in the place where "a human being was reduced to a tattooed camp number."
"It is our duty to remember, for ourselves and for the future," he said.
About 1.1 million people perished in the camp. Around a million of them were Jewish. The victims also included homosexuals, Sinti and Roma and communists. They were either murdered in its infamous gas chambers, shot, starved or succumbed to disease.
'One minute in Auschwitz was like a day'
Former Auschwitz prisoner Halina Birenbaum, who was born in 1929 and grew up in the Warsaw Ghetto, told the gathered crowd her teenage memories of the furnaces where the bodies of murdered inmates were burned.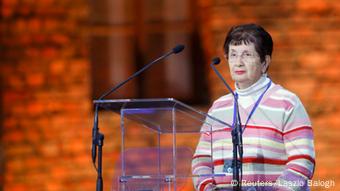 Survivor Halina Birenbaum says her time as a prisoner is fresh in her memory
"I lived to see the defeat of those (Nazi) henchmen. It is all fresh in my memory - when I am telling you this I am living those facts and those thoughts."
She expressed her dismay at modern-day Holocaust denial.
"I know what kind of hell all that can turn in to if no one stops it."
Another former inmate of Auschwitz, former Polish political prisoner Kazimierz Albin, also addressed the crowd.
"The only way out from here is through the chimney of the crematorium," he recalled being told as he arrived at the camp more than 70 years ago. He ended his speech with a moment's silence to honor the victims who had died.
Roman Kent, who is also the president of the International Auschwitz Committee, said he was often asked how long he was an inmate at Auschwitz.
"My answer is I do not know, but what I do know is that one minute in Auschwitz was like a day, a day was like a year, a month, an eternity.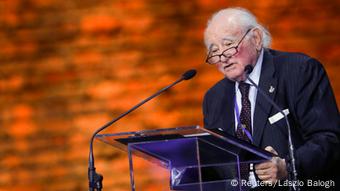 Roman Kent says survivors share a common goal
"We survivors cannot, dare not to forget the millions who were murdered, for if we were to forget; the conscience of mankind would be buried alongside the victims," he said. Fighting back tears, he said Holocaust survivors shared a common goal.
"We do not want our past to be our children's future."
DW on the scene
Deutsche Welle's Naomi Conrad attended the commemorations, where the president of the World Jewish Council, Ronald Lauder, warned that Jews in Europe were again being targeted.
Conrad reported that the guests of honor for the ceremony, including the survivors who are mostly aged in their eighties or nineties, began arriving early.
Representatives from almost 40 countries had been expected to attend. Notably absent was Russian President Vladimir Putin, whose relationship with the West has soured because of the ongoing war between pro-Russia separatists and government forces in Ukraine.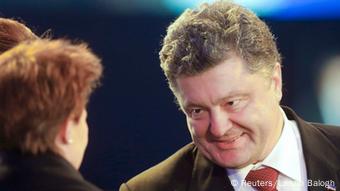 Ukrainian President Petro Poroshenko attended the memorial, but Russia's president was notably absent
Putin instead attended a memorial ceremony at Moscow's Jewish Museum.
"Such crimes do not and cannot have an expiry date," Putin said of the Holocaust.
Following the screening of the documentary film "Auschwitz," which was produced by Steven Spielberg, prayers for the victims were given by Jewish and Christian religious leaders. A procession of Auschwitz survivors and delegations of several heads of state then walked to the victims' monument in Birkenau to lay down candles as a way of paying tribute.
To end the evening's events, former inmates were given special commemorative medals to mark the 70th anniversary of the death camp's liberation.