Audi's new showroom in the heart of London - called Audi City - looks like no other car dealership in the world. In fact, it would fit in perfectly at a computing or electronics convention.
Four large touchscreen tables stand where display cars might normally be. Each device is linked to an enormous television screen equipped with a Kinect-type camera system.
"We call it the Audi City Powerwall. It has a camera on top, and Michelle is logging herself onto the wall right now," a sales assistant tells me as she talks me through the gadget. "Now, it's created a small Avatar for her."
I can see the small figure at the bottom of the screen is mimicking where Michelle is standing. Then, a series of models of Audi appear on the screen, and according to where she stands it selects a certain model.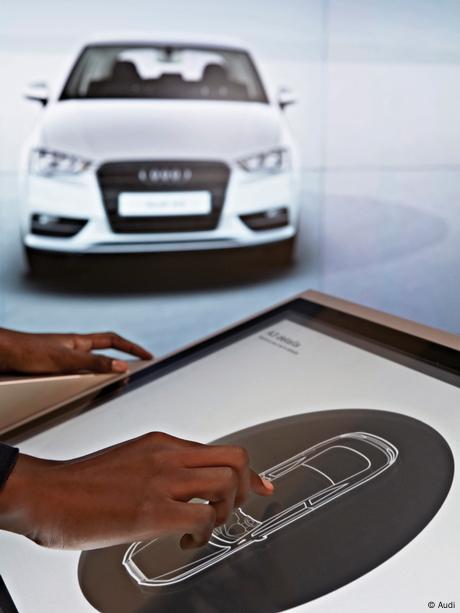 The new showrooms aim to get prospective buyers more involved
"As I step onto the round arrow, it will rotate the car for you, and on the right-hand side you can see all the technologies that we have within the car," a second sales person explains.
New sales tactic
The four Powerwalls - each measuring two and a half meters high by four and a half meters wide - are the centerpiece of Audi's new approach to selling cars.
Customers can select any vehicle from the Audi range, in any color and trim, and see it from any angle. They can even hear the sound of the engine as it goes on a virtual test drive.
"Just wait a few seconds and then the drive-off scene will pop up," the assistant says as the sound of the engine revs up. "So, that is the actual sound of the RS4 that was pre-recorded for a customer to experience without the car actually being here or being test-driven."
Being able to customize car colors and styles before ordering your vehicle is nothing new. These days you can do it on most carmakers' websites - at the budget or luxury end of the market.
But Dominic Chambers, the head of marketing for Audi UK, believes his hi-tech showroom has an extra allure.
"The audiovisual here is way in advance of anyone's home set-up. You can see the car in full size, which you can't do at home. And also you have the sounds and potentially the smells here as well with the leathers," he tells me.
"So I think there's a much deeper engagement with the brand and with the cars that they would not be able to get at home," he explains.
All about the experience
Brand experts agree.
Paul Edwards, Europe CEO for the international brand consultancy Hall and Partners, explains that interaction with a brand is key to selling cars.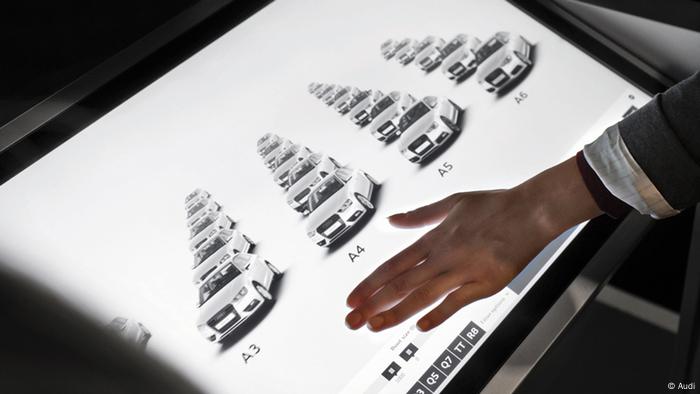 Keeping up with technology will demand ongoing, heavy investment
"The brands spend a lot of money making you desire them, and really want them. And then you've got to defend that down the pub, or at the golf club, wherever it is," Edwards tells me.
"So you've got to go along armed with the torque, the brake horsepower, with all that stuff. And if you can give the impression that you contributed to putting together this, say, 'rather superior Audi,' you've given yourself some great golf club ammo."
But you can't help feeling there is something missing here.
Audi City London only has room for three display models. Customers can arrange a test drive, but are big screens really a substitute for sitting in a car you want to buy?
Keeping up with technology
That is not to mention the fact that Audi will have to keep up with advances in touchscreen and motion sensing technology if the Audi City concept - which has already cost the firm over 10 million euros ($12.3 million) - is to avoid looking outdated.
"Technology does move on at a pace, you're right. But there's nothing like this anywhere else in the world, it's absolutely unique at the moment," says Chambers.
"Will it be unique in two years - maybe not, but we're making an investment here. We are going to obviously monitor it as a pilot. I don't know what's going to happen in the future, but we may have to improve and upgrade the technology as we go forward."
Audi is not the only premium car brand to have a showroom in central London. Down the road there is Porsche, there is BMW and Mini near Hyde Park.
But it is too early to say if the idea will catch on. Audi has only said it will definitely open one other Audi City – and that, in Beijing later this year.