A passenger bus was carrying 51 Shiite pilgrims from Iran to Pakistan's western Balochistan province when it was hit by a bomb on Tuesday, January 21. Authorities confirmed 22 deaths in the attack, which took place in the Mastung district near the Pakistani-Iranian Taftan border. Two people were killed in a previous attack in early January when a bomb targeted a bus carrying Shiite pilgrims near Quetta, the capital city of the Balochistan province.
Nobody claimed responsibility for the Tuesday bombing, but in the past militant groups belonging to the majority Sunni sect have carried out similar attacks.
Lately, Pakistan's militant Sunni extremists with links to al Qaeda have intensified their attacks on minority Shiites, whom they do not recognize as Muslims.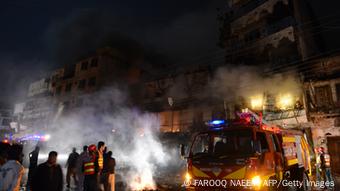 Violence between the two secular groups shows no sign of diminishing
In August, 2013, the al Qaeda-linked Lashkar-e-Jhangvi group massacred at least 50 Shiites in a string of terrorist attacks. The attacks were perpetrated on the mosque of ethnic Hazara Shiites in Quetta. 2012 was also a deadly year for Pakistan's Shiites. Human rights groups say that more than 300 of them were killed then.
A 'systematic' process of killing
Pakistani experts say that although the lives of Shiite Muslims are under threat all over Pakistan, those living in Balochistan and the northwestern Gilgit-Baltistan region face a systematic onslaught by the Taliban and other militant groups. Some experts have gone so far as to call it a "genocide."
Pakistani human rights groups accuse the country's security agencies of backing Sunni militants and failing to protect the minority groups of the country.
"The Lashkar-e-Jhangvi, which allegedly receives support from units of Pakistani intelligence agencies, has accepted responsibility for most attacks on Shiites in the recent past," said Malik Siraj Akbar, a Balochistan expert in Washington.
"The organization is closely connected to the Afghan Taliban and has renewed connections with Jundullah, the anti-Iran Sunni militant group. All these groups share abhorrence for the Shiites," he said, adding that the sectarian war in Pakistan between militant Sunnis and unarmed Shiites is turning uglier by the day.
Akbar says that militant Sunnis ask Shiites to either quit Pakistan or convert to their brand of Islam. "Both demands seem unacceptable considering the fact that Pakistan has the world's second highest Shiite population after Iran," he told.
Experts believe that the Saudi-backed Sunni hardliners are targeting Shiites to kill Iran's support in Pakistan. "Pakistani Shiites have close ties with Iran. On the other hand, Baloch separatists prefer to be with Tehran rather than Islamabad. This makes both the Shiites and Balochs suspicious in the eyes of the various stakeholders in the establishment. It is certainly not acceptable to Pakistan, Saudi Arabia and other regional powers," Nahyan Mirza, a communication expert in Islamabad, told DW.
State 'losing control'
Analysts are of the view that the Tuesday killings have again exposed the risks the Pakistani state has been confronting for many years. They say that unless the Pakistani state changed its priorities, such attacks would not cease in Balochistan and elsewhere in the country.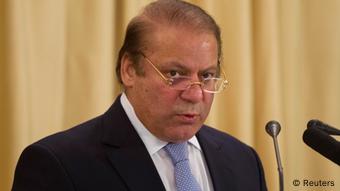 Sharif announced that his government would try to reach a peace with militants
After coming to power in June 2013, Pakistani Prime Minister Nawaz Sharif announced that his government would not follow the preceding Asif Ali Zardari government's anti-terrorism policy and would instead make peace with Islamist groups, including the Taliban.
Development worker and political activist Maqsood Ahmad Jan believes Sharif's insistence on peace talks with the Taliban and other radical groups are emboldening them.
Amin Mughal, a Pakistani journalist and scholar in London, believes that the policy of supporting Islamist groups has backfired and that the Pakistani state is no longer in a position to control the situation.
"It is a logical consequence of state policies which are based on religion," Mughal told DW, adding that the only way out of the crisis was for "true secular parties" to come to power and change the course of state affairs.