The stock markets in Asia spiraled further downwards on Tuesday, with investors losing confidence that the US and Europe can rein in their debt burdens and prevent a double-dip recession. Gold meanwhile continued to soar to record levels.
The mood was gloomy in Asia as markets plummeted for a third consecutive day. Tokyo dived 4.43 percent by the break, Hong Kong lost 7.24 percent in the first few minutes, Sydney shed 4.91 percent, Seoul was 7.5 percent down, while Taipei was more than 5 percent down. Shanghai was down 2.51 percent
These developments were exacerbated by bad news from China that is annual inflation rate had risen to 6.5 percent in July. The central bank is already struggling to keep prices in check without dragging down the economy, which is considered the world's main engine room.
Some analysts have called on Beijing to act but there are fears China might not be in a position to lift the global economy as it did in 2008 when it implemented a stimulus package that also helped buffer its own economy.
China's rebuke
.
On Monday, the Chinese state media blamed Washington's huge military spending and global footprint for the crisis that led to the historic downgrade of the US' credit rating last week, which alongside speculation that Italy and Spain could need a bailout sent the global markets into a tailspin on Friday.
"Since the collapse of the Soviet Union, the United States, as the world's sole superpower, has relied on its powerful military to meddle everywhere in international affairs, advancing hegemony, and paying no heed to whether the economy can support this," a commentary issued by China's Xinhua agency stated.
If the dollar weakens further it could have a dramatic impact on China because about 70 percent of its currency reserves is invested in US dollar assets.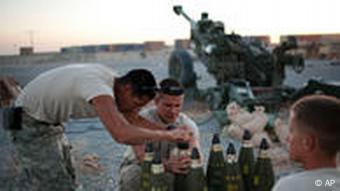 Xinhua has said the US should stop its interference abroad
The rebuke in the Chinese state media came as stocks across the Asian continent slumped and there were big losses in oil. Gold on the other hand surged to a new high as investors moved out of risky assets.
Frantic attempts to avoid market turmoil
The falls came despite frantic attempts at the weekend to prevent another day of market turmoil. Financial chiefs and central bankers of the G7 and European Central Bank grabbed their phones and organized meetings after markets plunged on Friday after Standard & Poor's downgrade of the US' credit rating and growing fears that the eurozone debt could plunge the world into a new financial crisis.
The European Central Bank announced on Sunday it would renew bond purchases after Italy and Spain announced new measures and reforms to boost their economies, and France and Germany pushed for full and rapid implementation of a plan to avoid future crises agreed at a summit last month.
Author: Anne Thomas (AFP, dpa, Reuters)
Editor: Sachin Gaur