On the banks of the Wouri River, among the banana trees and towering palms, are clusters of small houses covered by weathered, corrugated-iron rooftops. Despite the tropical humidity, small numbers of children are playing soccer. In this small settlement on the edge of Cameroon's megacity Douala, few people might expect to find a contemporary art installation.
But here in this landscape is a walk-in sound installation by artist Lucas Grandin, consisting of a three-story, wooden scaffold planted with luscious greenery. Among the greenery, a network of narrow hose pipes littered with tiny perforations releases droplets of water at varying intervals. The tapping, beating and drumming sounds produced by the water is something to behold, even in the middle of the heavy rainfall season.
An abundance of water - but nothing to drink
The person responsible for this sound garden installation is Marylin Douala-Bell. She is a princess belonging to a royal family in the south of the country. She is also president of doual'art, the only center for contemporary art in Cameroon. In 2010, Douala-Bell curated an impressive contemporary art project centering around the subject of water.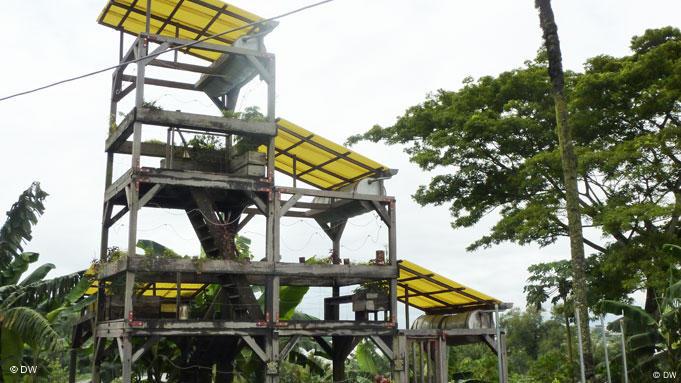 "Le Jardin Sonore" - the art of water and sound by Lucas Grandin


But having studied economic development at college, the princess was interested in addressing more than just aesthetics. "70 percent of the people living here have no access to clean water," she lamented. "The authorities are not able to provide clean water to the exponentially expanding population - and that, in the city of Douala - one of the rainiest places on earth!"
The city - a new phenomenon
How to handle water resources is a key social and political issue for Marylin Doula-Bell. That, along with other current political debates, represent the major themes of her art projects. Her ultimate aim is to make people aware of how they can make a positive contribution to community life in the city.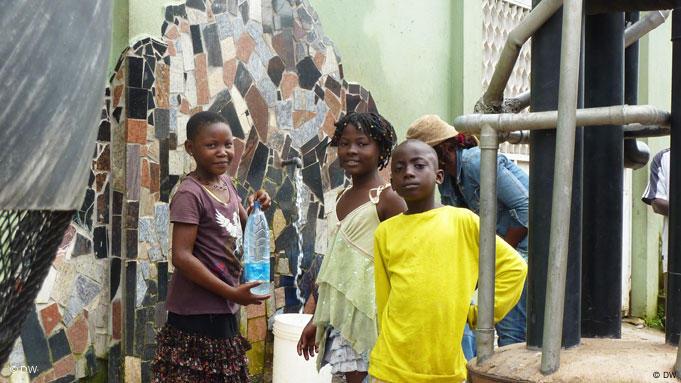 This water collection area was redone with art


But her mission is by no means easy, not least because the concept of shared public space and resources has never really entered the public consciousness - not even at the local government level. "The phenomenon of the city is new to us," says the doual'art president. "The behavior of the majority of city inhabitants is driven primarily by attempts at survival."
Art reflecting life
On the surface, an artistic approach to the situation in the African city may seem rather superficial, absurd even. But Marylin Douala-Bell gave it a shot und was surprised by just how intensely local people on the street engaged with the art works. "They begin to reflect on their own lives - asking questions about the artworks' materials, their shapes, and the discourse conducted by the artists. In that way, they are thinking and talking about very similar things."
Future prospects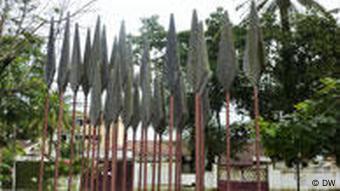 Art in the center of it all
Numerous art works have been created in the last few years as part of the doual'art initiative. The hope is that interactions with them will be thought-provoking and the first step towards change. Artworks, for instance, that are installed near public water taps, where people stand in line every day with buckets and containers, waiting to collect their share. People cannot help but be confronted by the works.
Fears that the works would be targeted by vandals, however, have been allayed by the high level of public interest in the works. The taxi driver, for example, who drove this reporter through Douala in search of these artworks in public spaces, took the opportunity to photograph a work by Cameroonian artist Baby Kouo Eyango, with which he wasn't yet familiar. The work consists of paddles fishers normally use with their canoes, but in this work, they are planted in the ground - standing upright like swords in the middle of a small green.
Execution at the hands of the Germans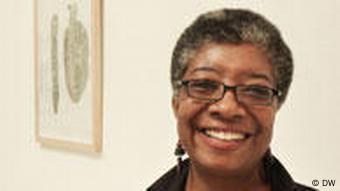 Princess Marylin Douala-Bell
Marylin Doula-Bell's project work is not only artistic. She also hopes to provoke change by providing a fresh perspective on the history of Cameroon for the indigenous population. Another of her doual'art projects has been turning places of historical interest in cities across Cameroon into memorial sites with explanatory placards indicating forgotten or suppressed historical information.
The princess' own family history is heavily intertwined with the colonial history of Cameroon. In 1914, her great-grandfather, King Rudolf Douala Manga Bell, was murdered by German colonial forces. "This event belongs to the history and heritage which forms modern day Cameroon," she said. "It is a painful but interesting history. My Great-grandfather fought very hard between 1900 and 1914 to preserve the rights which had been certified in 1884."
Lost history, lost identity
It was in 1884 that Germany declared Cameroon a "protected" territory. But forced labor, the compulsory relocation of people and communities, and the violent destruction of towns and villages were part of everyday life in Cameroon. Germany's colonial rule ended in 1916 when French and later British colonial forces moved in.
Cameroon finally gained independence in 1960 but decades of colonial rule continue to influence the mentality of the majority of the population. In viewing their own history, Cameroonians have often seen themselves as the perpetual victims of colonial aggression. Marylin Douala-Bell believes this is a direct result of failed political policy in the area of education. "Nothing has been done to enable us to rebuild our own identity," she noted. "We have lost our memories and our history. We have lost the ability to say that we are able to develop a new way of life, the ability to resist and enter into confrontation."
Remembering for the future
Through various cultural projects, Marylin Douala-Bell hopes to remind the people of Cameroon that they were once a self-confident and proud nation that - like her great-grandfather - fought against colonial oppression.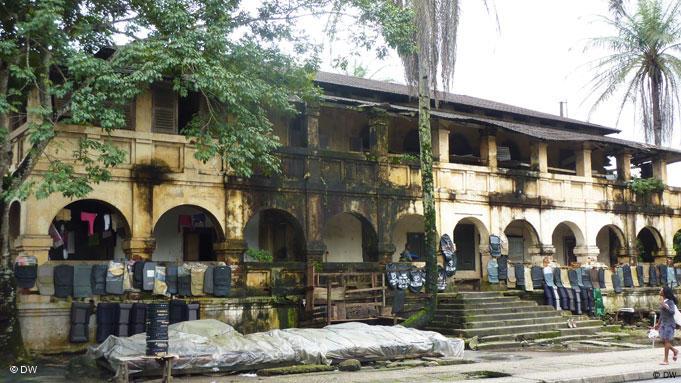 "Villa Mandessi Bell" - from the period of German colonial rule


To that end, Doual'art provides not only memorial placards, but also offers free guided history tours. "When young people realize how and when and under what terrible circumstances these buildings were created, they do not say that we have failed, they say that we have managed to survive. That is a reason to fight for a better future!"
Just like Marylin Douala-Bell herself, who has been campaigning for funding for contemporary art and history projects in Douala for the last twenty years. One of her successes includes a sculpture by Cameroonian artist Joseph-Francis Sugégné. The work depicts a friendly giant made from pieces of scrap, standing on one leg, a globe proudly resting upon his head. The piece was originally highly controversial, but has meanwhile become a city landmark the locals like to boast about. After all, the sculpture is entitled "La Nouvelle Liberté" - the new freedom.
Author: Aya Bach / hw
Editor: Louisa Schaefer