In London, hosts Arsenal took the game to the Germans straight from the start of the game: striker Yaya Sanogo scored after just 72 seconds. It was the fastest goal ever scored against Dortmund in a Champions League match, even if there was a possibility of a slight offside.
But as the first half settled down it became clear that the early goal was no fluke. Dortmund allowed Arsenal plenty of space to attack. Alexis Sanchez was all too happy to show off his dribbling skills, in fluid combination with Arsenal's other attackers.
Dortmund's Henrikh Mkhitaryan had the guests' best chance to score at the end of the first half, but he was denied by an excellent save by Arsenal's keeper Damian Martinez.
In the second half, Arsenal's Alex Oxlade-Chamberlain tried his luck from a distance, but the ball bounced off the crossbar to spare further Dortmund blushes. Eventually though, Arsenal's Alexis Sanchez got the goal he deserved, sending in a brilliant long-range shot with his right foot from outside the box.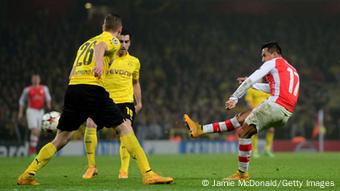 Sanchez had been on form all night, until he scored a stunning goal in the 57th minute
Further attacking substutions followed, but it was to no avail for the Germans. Despite struggling in the Bundesliga this season, it was Dortmund's first loss in their current Champions League campaign.
"Arsenal was the better team over 90 minutes," said Dortmund's Jürgen Klopp, to broadcaster Sky Germany after the game. "We deserved to lose, even if we did have some good chances to score."
"Now we just have to win against Anderlecht and we can finish the group in first position," Klopp added.
Leverkusen also stumble
In Leverkusen, Roger Schmidt's team once again - like in the first leg against Monaco - dominated their opponents but still went home empty-handed.
Monaco started defensively, as expected, allowing Leverkusen to launch a wave of attacks. Sven Bender hit the bar in the 26th minute with a clean strike that could have sent the hosts 1-0 up.
In the second half it was more of the same, until a strong run from ex Leverkusener, now Monaco player, Dimitar Berbetov set up Nabil Dirar to send in a pinpoint cross with his right foot. Argentinian striker Lucas Ocampos then shovelled the ball in from close range, to score his first Champions League goal.
Things just didn't go right for Leverkusen at home on Wednesday night
Monaco was able to hold the 1-0 lead until the end despite further Leverkusen attacks. It was the first loss at home for Leverkusen since March of this year.
"It's annoying," Leverkusen striker Stefan Kiessling said to Sky after the game. "The last step was just missing tonight. I'm disappointed."
Leverkusen will now also have to get a result in their final group stage match in December to ensure that they top their Champions League group.
The two losses on Wednesday mean that all four German clubs involved in the Champions League failed to pick up points this week. On Tuesday, both Bayern Munich and Schalke also lost their games - both to Premier League sides.
Looking across Europe
Elsewhere on Wednesday, current Champions League title holders Real Madrid were able to keep their undefeated record this season intact as they beat Basel in Switzerland 1-0. The lone goal scorer was Cristiano Ronaldo. Madrid's other team, Atletico, found things considerably easier as they crunched Olympiakos 4-0 at home.
In Bulgaria, Ludogorets kept Liverpool to a 2-2 draw with a fighting performance. The hosts managed to level the game with just two minutes of regular time remaining.
In Sweden, Juventus beat Malmo 2-0, while Belgian side Anderlecht triumphed by the same margin over Galatasaray. Earlier in the evening, Zenit St. Petersburg beat Benfica 1-0 at home.