The two people arrested on Thursday were accused of inciting violence on social media against three military judges who had found Sergeant Elor Azaria guilty of manslaughter a day earlier.
Police said on Thursday that social media comments by a man arrested in Jerusalem and a woman in the southern town of Kiryat Gat constituted "incitement to violence" against the judges. Several Facebook accounts have been set up in support of Azaria.
The 20-year-old Azaria shot dead an incapacitated Palestinian man last March, following an incident during which two Palestinians stabbed one of his fellow Israeli soldiers.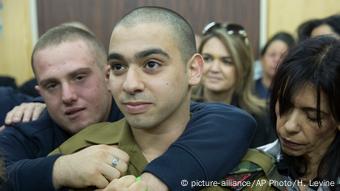 Azaria now faces up to 20 years in jail
The victim, 21-year-old Abd Elfatah Ashareef, had already been disarmed of his knife when the shooting occurred in Hebron in the occupied West Bank. The other assailant had earlier been shot dead by troops.
'Acting out of revenge'
The three judges ruled that Azaria had acted out of a sense of vengeance, after the court heard he said "He (Ashareef) deserved to die," after pulling the trigger. He now faces up to 20 years in jail, although most commentators say the sentence will be much lighter.
The rare conviction of a solider like Azaria has polarized public opinion in Israel. Far-right activists clashed with police outside the Tel Aviv military base on Wednesday as the verdict was delivered.
Right-wing politicians - including Prime Minister Benjamin Netanyahu - have called for the soldier to be pardoned.
Extra protection
The three judges have now been given military bodyguards, local media reported.
Israel's military chief of staff Gadi Eisenkot was also reportedly threatened online, with some supporters of Azaria suggesting Eisenkot would join Rabin - a reference to the 1995 assassination of former prime minister Yitzhak Rabin by a Jewish extremist.
mm/se (AFP, Reuters)