Ezeiza Hospital is in a rundown, dirty suburb on the southern fringe of greater Buenos Aires. The hospital's neat lawns and clean corridors contrast starkly with the abandoned storefronts and dusty, trash-littered roads of the surrounding area. Hidden in its Intensive Care Unit, it holds a dark secret: it has become a center for treating drug mules - those trafficking illicit drugs in their bodies - caught by police.
"The first drug mule arrived here at the end of 1994, when we had no idea how to treat this problem," explains Dr. Graciel Sorrentino, the director of Ezeiza Hospital. "From there, the number of mules increased, with spikes in some years. So we started to learn how to treat them."
Over the past two decades, she says, the hospital has treated more than 500 drug couriers and has found over 30,000 drug capsules each weighing between 10 and 20 grams. The capsules, which are usually filled with powdered cocaine, are about four to eight centimeters long and one to two centimeters wide.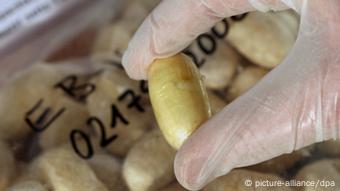 A condom filled with powdered cocaine
To swallow them, the drug mules practice with carrots and frozen grapes, the doctors here say. Once in Ezeiza Hospital, the patients have a private bathroom with a special toilet so the staff can gather the capsules and hand them over to law enforcement.
Acting fast
Sorrentino says that many of the drug mules the hospital treats are already medicated when they get here - so they won't feel pain and to keep them from defecating before they reach their destination.
"What we do is give them a laxative and wait, while they remain under medical observation and police custody," Sorrentino explains.
As soon as a patient shows signs of drug intoxication, surgeons operate to remove the capsules. Even so, three percent of the mules who come to the hospital die there. Sorrentino recalls a young man she once treated.
"Because of defects in the wrapping, four drug capsules opened simultaneously, but we couldn't do anything for him," she told DW. "We couldn't save the life of a boy who was 21 years old. He was in the prime of life."
Everyday criminals
Luis Taco runs the hospital's Intensive Care Unit. Originally from Ecuador, Taco says his immigrant background means that every time he treats a drug mule, he thinks about how - had it not been for his university education - he could have been in their position.
"We see a drug mule, but many times we don't see the whole background that caused this person to take this risk," Taco told DW. "I myself could say I'm a mule. I took a risk and came to Argentina. But I came with a degree."
Some 500 drug mules have come through Ezeiza Hospital in the last 20 years
Most people would have to be desperate to willingly try to carry illegal drugs inside their bodies across international borders, says Taco. The pay the mules receive from the drug traffickers often isn't very high.
"Many of these people expose Latin America's excruciatingly painful socioeconomic reality," explains Taco. "The majority become involved in this out of necessity. They risk their lives in the hope of economic compensation."
Who's to blame?
Many of the drug mules who arrive at Ezeiza Hospital come from Latin American countries, usually Bolivia, Peru and Venezuela. Once they are well enough to leave, Taco has no choice but to hand them over to the police. He is often not informed of the final fate of those he treats.
His colleague, Dr. Sorrentino, says that the real criminals are not the mules, but the people who exploit them.
"There are people who work for good and people who work for bad," she says. "But for the people in the drug trade, the mules are disposable."