Greece's Culture Ministry confirmed on Wednesday that an excavation site in the country's north had once again produced exciting results, namely, that of a skeleton.
The remains would "be studied by researchers," the Culture Ministry announced in a statement.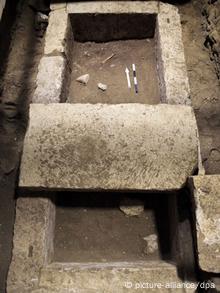 Archaeologists discovered the skeleton under the third chamber
An archaeological team digging roughly 600 kilometers (370 miles) north of Athens near the city of Amphipolis in recent months discovered the bones in the third chamber of the massive tomb. According to preliminary information, parts of the skeleton were strewn around a rectangular wooden casket, which had been buried under the floor (pictured) of the cavernous room.
The occupant was probably some "outstanding personality, a great general," head archaeologist Katerina Peristeri said.
Peristeri is to disclose the findings in detail at the end of the November.
Nearly intact statues and expansive mosaics have fascinated the team, which is gradually making its way through the mysterious tomb. While the opulence points to a final resting place for an important person, the archaeologists on site still do not know to whom it belonged.
The discovery of a skeleton was "a very important find because it will help us learn the sex of the person buried there, and possibly their approximate age," University of Thessaloniki archaeology professor Michalis Tiverio, who is not participating in the dig, told the Associated Press news agency.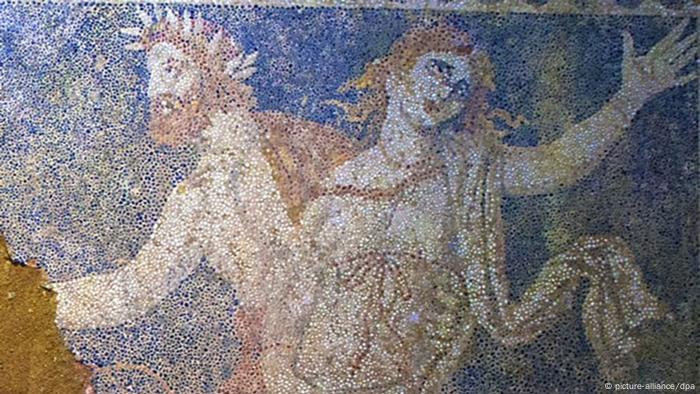 The tomb houses intricate mosaics including this one of the Rape of Persephone
Tomb fuels speculation
The tomb dates back to the time during which Alexander the Great ruled much of the surrounding region. Born in 356 BC, the young king of Macedon launched a successful military campaign through the Middle East, pushing into Asia to modern-day India, as well as into northeastern Africa.
Following his death in 323 at the age of 32, his wife, Roxana, and their son, Alexander, were exiled to Amphilpolis. They, along with his mother, brother and sister-in-law were later murdered there.
Alexander the Great's final resting place is believed to be in Alexandria, Egypt. However, the findings of the current excavation in northern Greece have re-fuelled speculation that perhaps he had been buried closer to his home after all.
kms/mkg (AP, AFP, dpa)