Journalists from the 42 countries of the Union for the Mediterranean were invited to submit their work, tackling intercultural issues between and within Euro-Mediterranean societies. A jury of media professionals and intellectuals, chaired by HRH Princess Rym Ali of Jordan, selected the finalists. The award ceremony took place at the European Parliament in Brussels.
The jury recognized the Shababtalk episode "Does the Arab World need a women's rights revolution?" recorded at the Global Media Forum in Bonn in June 2017. DW host Jaafar Abdul Karim raised a discussion about the issue of gender inequality in the Arab World. The jury members said: "The episode took us on a journey to know all aspects of the story. The work conveyed a clear message: Rules can change. And at the end, we were left with a real impact". Watch the episode on DW's website: http://p.dw.com/p/2fXSd.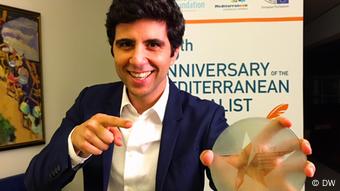 DW host Jaafar Abdul Karim: "I'm thrilled that these lively and enthusiastic debates keep hitting a nerve with young people. This award will motivate the whole team to continue working to keep Shababtalk a free platform for the younger generation."
DW's Director of Programming Gerda Meuer: "Times are changing and this becomes evident with this award. Social media is making women more visible and campaigns like #metoo have created a lot of exposure for the topic of sexual harassment. A new democratic form of communication has emerged, which is both influencing and being strongly influenced by women. As Germany's international broadcaster, we express this attitude by informing our viewers and users around the world independently and objectively. Issues such as gender equality are an integral part of our programming."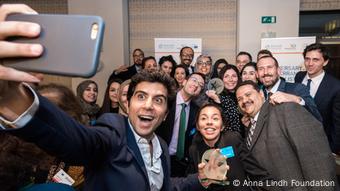 Shababtalk is a weekly, youth-oriented talk show. Reaching millions of viewers across the Middle East, the interactive, innovative talk show critically confronts socially charged topics, such as politics, religion, human rights and sexuality. Since 2015, Shababtalk has been touring the MENA region, producing episodes in Jordan, Morocco, Egypt, Lebanon, Tunisia, Qatar, Sudan, Libya, Iraq and Mauritania.