Jansa's center-right Slovenian Democratic Party (SDS) won just under 25 percent, with more than 99 percent of votes counted on Sunday, according to the State Election Commission.
The trend adds a further anti-immigrant line-up to Europe's political scene, and the prospect of rival parties vying to form a majority in Slovenia's 90-seat parliament.
Jansa (pictured above) had been aided in campaigning by Hungarian Prime Minister Viktor Orban, who participated at one of the SDS's election rallies.
Some 500,000 migrants crossed through Slovenia in late 2015 and early 2016 along the so-called Balkan route, since largely closed by patrols and fences.
Second 'anti-system' party
Second-placed in Slovenia's initial result was the "anti-system" LMS party of comedian-turned-politician of Marjan Sarec on 12.7 percent.
The official incomplete results also showed the centre-left Social Democrats in third place on 10 percent.
They were followed by the SMC party of outgoing Prime Minister Miro Cerar on 9.5 percent and the left-wing Levica party with 9.0 percent.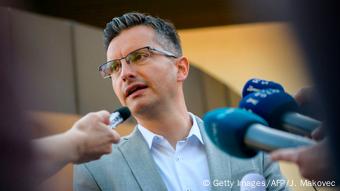 Sarec says Jansa has crossed 'red lines'
Nine of 25 parties contesting Sunday's election appeared set to make it into parliament.
Turnout among 1.7 million eligible Slovenians stood at just under 52 percent.
Collaboration ruled out
Parties in Cerar's outgoing coalition — the Social Democrats, the SMC and the pensioners' party DESUS — have all ruled out collaborating with Jansa's SDS.
Sarec recently chided Jansa for involving Orban in "our elections," saying this had crossed "all red lines" and left parties in his coalition unwilling to partner with the SDS..
As Sunday's results emerged, Sarec said he was "very happy," hinting that he would approach other parties to keep Jansa out of power.
Jansa tweeted late Sunday — after initial exit poll results were released: "We do not fear tomorrow; we are looking forward to it."
Slovenian media has claimed that Hungarian media companies poured €2 million ($2.3 million) into Jansa's campaign.
Last straw
Cerar triggered Sunday's election last March after months of public sector strikes, internal wrangling within his outgoing coalition, and a supreme court decision against an infrastructure project.
Veteran conservative Jansa's career stretches back to moves for Slovenian independence within former Yugoslavia. He served twice as Slovenian prime minister — from 2004 until 2008 and again from 2012 to 2013.
In 2014, he campaigned from jail while serving time on graft charges that were later overturned by Slovenia's constitutional court in 2015.
Instability likely
Analysts say Slovenia faces political instability, either under a right-wing coalition led by Jansa or one from the center left.
"It seems clear that the SDS will win, but everything else about this election is unclear because the question is whether the SDS will be able to form a government coalition," said Meta Roglic, a political analyst with daily newspaper Dnevnik.
Slovenia, which narrowly avoided a bailout for its banks in 2013, returned to growth in 2014.
A plan to privatize the country's largest bank, Nova Ljubljanska Banka, is likely to be high on the agenda of the next government.
The previous administration agreed to sell the bank in exchange for European Commission approval of state aid in 2013.
Other likely agenda items will be reforms of Slovenia's state health sector and pension system.
rs, ipj/rc (dpa, AFP, Reuters)