Environment Minister Barbara Hendricks is bringing in new food packaging rules that give companies too much freedom to return to the bad old days before bottle recycling, according to one of the country's leading environmental protection organizations, Deutsche Umwelthilfe (DUH).
In the ministry's words, the new packaging bill is designed to ensure that "even more waste from private households will be recycled," and "manufacturers should have stronger incentives to consider recycling in the design of their packaging."
In fact, one of the measures in the law would see the abolition of a 25-year-old quota that forces drinks companies to make more reusable bottles or face sanctions.
"We criticize this law very strongly - it's really a step backwards for environmental protection," DUH spokesman Philipp Sommer said. "It concentrates on recycling, but the most important thing is to avoid more waste in the first place. It's only when you can't do that that you should think about recycling."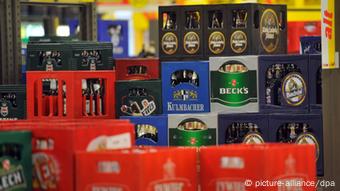 The deposit law has been especially successful with beer
"That means these massive quantities of packaging - and Germany is the leader in Europe on that - will continue to be produced, including the use of resources, energy, and water bound up with that," Sommer said.
'Undercut considerably'
Sommer wants the law to incentivize reusable packaging to a much greater extent than what the Environment Ministry is currently planning. "That's why we are calling for the quota for reusable bottles, which has already existed for 25 years, to be kept," he said. "And for the quota to be linked with sanctions in case they are not maintained."
Instead, the government is planning to abolish this quota - currently at 80 percent - on the grounds that bottle deposits are already doing the job. But, the DUH pointed out, deposits had been brought in precisely as a sanction against drinks companies because they weren't maintaining the quota - removing the quota therefore would remove the political basis to implement incentives in favor of refillable bottles.
"Now we have the same situation," Sommer said. "The quota is being undercut considerably, and now we need obligatory sanctions again."
The DUH suggests a steering tax of 20 cents ($0.23) per nonreusable bottle. "That would motivate consumers to buy refillable packaging, and that would mean we would produce less packaging waste," Sommer said. It would also give budget supermarkets such as Lidl and Aldi an incentive to stock more recyclable bottles, he added.
According to the Environment Ministry's website, such a steering tax on single-use bottles is "more complicated than it appears at first glance" because of questions over how it should be calculated. "Would the constitutional principle of proportionality be guaranteed if the tax on a drink were double or triple the original price? And: Is a tax that would hinder the market access of foreign suppliers compatible with EU law?"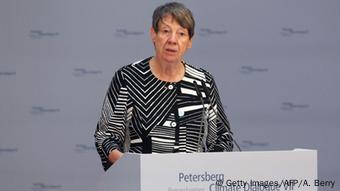 Hendricks thinks that the quota is no longer necessary
Deposits not enough
Hendricks' argument against the quota, as formulated on the website of the public broadcaster ARD, is that it is no longer necessary because "in reality the obligatory deposit has been the means of choice for more than 10 years."
"Unfortunately, that's not true at all," Sommer said. "The hope at the time was that deposits would strengthen reusable packaging. And that succeeded partially, with beer having a share of more than 80 percent and bottled water of 40 percent reusable packaging, for example - but with other sectors, like fruit juice, we are still only at 4 percent reusable packaging because there is no deposit on fruit juice. We have to recognize that the effect has not been sufficient. We need new measures that protect reusable packaging in Germany. The deposit is not sufficient anymore."
Jürgen Trittin, Germany's Green environment minister when deposits were introduced, was equally concerned about a draft bill that he might consider a threat to his political legacy. "There, where Germany without doubt has played a pioneering role - in the protection of the reusable system - they want to make an environmental backwards step and basically reverse 25 years of cross-party environmental policy," he told ARD.