Angela Merkel was elected by a decisive margin, receiving 397 of the 611 valid parliamentary votes. She needed at least 308 to take office. Her own CDU party, its sister party the CSU, and coalition partner SPD together owned a total of 448 votes.
A majority was virtually certain for 51-year-old Merkel, who had spent the past weeks painstakingly crafting the current left-right "grand coalition" set to take power.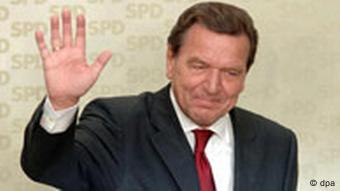 Gerhard Schröder waves goodbye to supporters, preparing to leave office
Merkel is Germany's eighth post-World War II leader. The first person to offer congratulations was former Chancellor Gerhard Schröder, who started the whole election ball rolling half a year ago by calling snap elections.
Schröder will give up his seat in the Bundestag on Wednesday. The 61-year-old plans to write his memoirs and practice law.
Moving ceremony
Visibly moved, Merkel accepted the vote, and afterward went to nearby Charlottenburg Palace, where German President Horst Köhler presented the new chancellor -- the first female and first eastern German to hold the office -- with a certificate of appointment.
"I feel good, and I am very content, and I am happy," a glowing Merkel told reporters afterward.
She then returned to the Bundestag, where she was formally sworn in, including the optional phrase: "so help me God."
Later in the afternoon, the members of Merkel's cabinet also received their certificates of appointment from the president and took the oath of office in parliament.
Rough road ahead
The relatively slim majority of votes for her chancellorship indicates that Merkel's government faces a difficult road in its task to turn around Europe's largest economy.
Merkel, a conservative, was forced into awkward compromises on taxes and welfare-state reforms that some fear could undermine her coalition with the left-wing Social Democrats, and slow efforts to fix a lagging economy.
Despite the fact that Merkel failed to garner 51 of the votes available from her own coalition, Social Democrat parliamentary leader Peter Struck called the vote a "good beginning."
Struck told ZDF television that he wasn't disappointed by the voting discrepancy.
"Any woman who can fight her way to the chancellorship of the (Christian Democratic) Union has certain strengths," Struck said. "She has the opportunity to become a good chancellor."
Merkel's chief-of-staff-elect, Thomas de Maiziere, acknowledged: "It was not a very good result, but it wasn't a bad one either."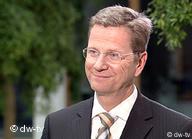 Westerwelle cast doubts on the coalition's strength -- or is that just sour grapes?
But Guido Westerwelle, chairman of the liberal opposition FDP party, warned the 51 'nay' votes were a sign of weakness of the newly elected coalition. The fact that "several dozen" of the dissenting votes came from Merkel's own party showed "how unstable the foundation of this government is," Westerwelle told German public broadcaster ARD.
Westerwelle's FDP did not get enough seats in parliament to form the hoped-for right-wing coalition with Merkel, thus forcing the right-left coalition that eventually won out.
Chancellor's Web site becomes female
Merkel's election meanwhile has already resulted in a switch to the German head of government's Web site. While former Chancellor Gerhard Schröder's Internet presence could be found at www.bundeskanzler.de, the address now automatically links to bundeskanzlerin.bundesregierung.de (chancelloress.federalgovernment.de).
A PR consultant, who holds the rights to www.bundeskanzlerin.de, has said that he would offer the name to Germany's first female chancellor.