The number of internally displaced persons (IDPs) in Afghanistan has seen a dramatic surge in recent years, soaring from some 500,000 in 2013 to nearly 1.2 million today, reveals a new study released by rights group Amnesty International (AI) on Tuesday, May 31.
The report, titled "My children will die this winter: Afghanistan's broken promise to the displaced," paints a bleak picture about the current state of affairs when it comes to protecting IDPs and guaranteeing their rights in the war-ravaged country.
In addition to the challenges associated with a frail security situation, AI experts say, the displaced population faces an array of problems, including inadequate shelter, food, and water, as well as access to education, healthcare and employment.
The report is based on the researchers' visits to Afghanistan in November 2015 and February 2016, when they interviewed more than 100 displaced people, government officials, international aid workers and other stakeholders.
"While the world's attention seems to have moved on from Afghanistan, we risk forgetting the plight of those left behind by the conflict," AI's South Asia director, Champa Patel, said in a statement.
"Even after fleeing their homes to seek safety, increasing numbers of Afghans are languishing in appalling conditions in their own country, and fighting for their survival with no end in sight," she added.
Since being forced to flee their homes, IDP children's education has been interrupted and adults have been reduced to chronic unemployment, the report underlined.
Khan Mohammad is an IDP currently living in a camp in the capital Kabul. He told DW that he had fled his home province of Baghlan due to a deterioration of the security situation. "The Taliban have a strong presence in the province and the government is helpless against them. I would go back to Baghlan if the security situation stabilized," he said, pointing out that his children were unable to go to school and receive education in Kabul.
"We were promised many things, but nothing has happened. And no one is paying attention to the future of these children," he lamented.
Ismail, another IDP who has been residing in Kabul for three years, shares a similar view: "Our situation is very bad. There is no work and I have no money. Do I not belong to Afghanistan too? Why can't we get opportunities to work?"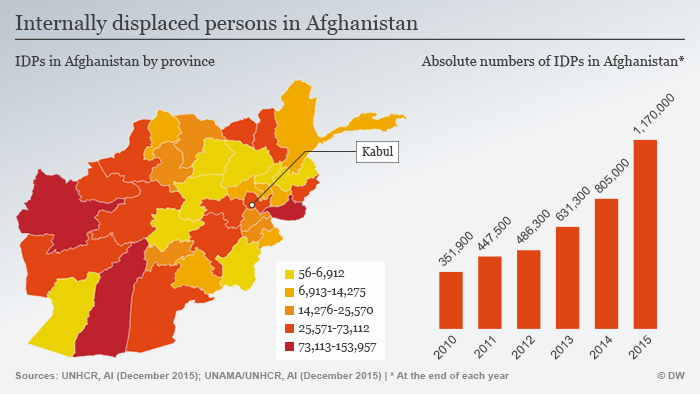 Primary drivers
Growing insecurity and a faltering economy are the major factors behind an increasing number of people fleeing their homes and communities in recent years.
The number of civilian casualties, for instance, is currently at a record high, with the UN Assistance Mission to Afghanistan (UNAMA) saying that 2015 was the most dangerous year on record for civilians since 2009, when it began collecting such data.
UNAMA documented at least 11,002 casualties (3,545 deaths and 7,457 injured) in 2015, a jump of 21 percent from the 2013 figure of 8,638. One in four of these casualties was a child, and one out of 10 was a woman.
The upsurge in violence is attributed by analysts to a resurgent Taliban and the inability of the Afghan government to force the militant group to the peace table.
The internal power struggle within the insurgent outfit following the announcement of the death of its former leader Mullah Mohammad Omar has also derailed the government's efforts to hold peace talks with the militants.
Compounding the problems are weak and corruption-prone state institutions, including the police and armed forces.
Meanwhile, the worsening security environment and the drawdown of international troops from the country has weighed on the nation's growth prospects, with the World Bank now projecting the economy to expand by a mere 1.9 percent in 2016.
This slowdown, in turn, has negative implications for the education and job prospects of the IDPs.
Talking about the dismal conditions prevailing at an IDP camp in Kabul, a woman told DW: "There are no clinics or schools here. If we have any difficulties or problems, there is no one to help. My son broke his arms, my daughter has heart problems, but there is no help.
"We don't have mosquito nets to protect our children from malaria. We don't have money or food to put on the table. There is no way to go back. Our lives are already miserable. I wish that at least my children would have a good future."
More aid needed
In a bid to address the problem of the displaced people within in the country, the Afghan government launched a national policy for IDPs in 2014.
Despite promising to improve the living conditions of IDPs, the authorities have yet to show any tangible results, Amnesty says. Its report noted alleged corruption, lack of capacity in the Afghan government, and fading international interest as the reasons behind this failure.
"The international community has not stepped in as much as it could where the Afghan government has been unable to. With other crises grabbing global attention and donor money, aid to Afghanistan is dwindling," it said.
Experts point out that this decline in international assistance in recent years has led to a cutback in the amount of support that NGOs have traditionally offered to IDPs. That's why the rights group says it's calling on the Afghan authorities and the international community to ensure that the most urgent needs of IDPs are met.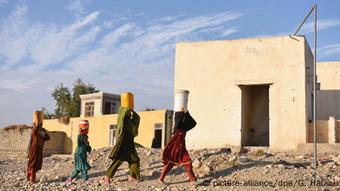 Growing insecurity and a faltering economy are the major factors behind an increasing number of people fleeing their homes
Analysts stress that measures for the welfare of the displaced are particularly important as Afghanistan has one of the highest refugee populations in the world - estimated at around 2.6 million people living beyond its borders.
The number of Afghans applying for asylum in Europe quadrupled in 2015 from the year before - to about 178,000, according to European statistics agency Eurostat.
In order to reduce the number of Afghans risking their lives by undertaking perilous journeys to enter Europe, the international community has to commit more resources for assisting the internally displaced.
"All parties that have been involved in Afghanistan over the past 15 years have a responsibility to come together and make sure that the very people the international community set out to help are not abandoned to an even more precarious fate," said AI analyst Patel.
Additional reporting by Hussain Sirat from Kabul.