The international human rights organization Amnesty International has released a damning report which says European Union (EU) countries have been quietly deporting Roma gypsies back to Kosovo for over a year.
The report, titled "Not Welcome Anywhere: Stop the forced return of Roma to Kosovo", singles out Germany as a chief perpetrator, alleging many of the gypsies are being forcibly removed from their homes at early hours in the morning with nothing more than the clothes on their back.
Amnesty says that many of the Roma are made to sign statements attesting their deportation is voluntary.
The report calculates that almost 10,000 Roma are legally obliged to leave the country and are therefore at risk of forcible return to Kosovo from Germany alone.
It says the Roma deportations began during negotiations of a Bilateral Readmission Agreement between Germany and Kosovo in 2009, which was finally signed on April 14, 2010, and came into force on September 1, 2010.
Roma discrimination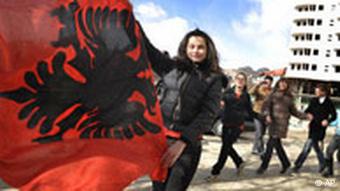 Ethnic Albanians were the driving force behind Kosovo's independence
Sian Jones, Amnesty's Kosovo expert, said EU countries risked breaking international law by sending Roma back "to places where they are at risk of persecution, or other serious harm."
Discrimination against Roma in Kosovo is "widespread and systematic compounded by their perceived association with Kosovo Serbs," said Amnesty.
"The EU should instead continue to provide international protection for Roma and other minorities in Kosovo until they can return there safely," added Sian Jones.
"The Kosovo authorities must also ensure that Roma and other minorities can return voluntarily and reintegrate fully in society."
The London-based rights group said few Roma receive help on their return to Kosovo, meaning many face problems in obtaining access to education, healthcare, housing and social benefits.
Deportations from Germany are organized by the individual states, and there are wide differences between the strictness with which they are carried out, with some states having imposed a virtual moratorium.
Roma clampdown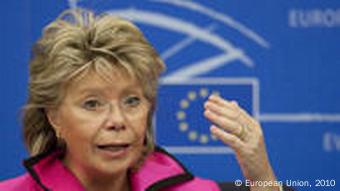 Viviane Reding issued a sharp rebuke of French policy on Roma
A recent report by the United Nations children's organization, UNICEF, indicates that nearly 40 percent of the Roma returned from Germany are stateless, and that as many as 50 percent who are legally obliged to leave are children. It also states that almost two-thirds of them are born and educated in Germany.
The partially-recognized Republic of Kosovo declared itself independent from Serbia in 2008. So far, the independence of the Albanian-majority state has been recognized by 70 countries.
The Amnesty report comes amid international outrage at a clampdown on Roma in France, which has seen hundreds of them sent back to Romania and Bulgaria since the beginning of August despite EU legislation on the free movement of people.
EU Justice Commissioner Viviane Reding threatened to take legal action against France over the deportations.
Author: Darren Mara
Editor: Michael Lawton