Amnesty said on Friday that its researchers had recently interviewed more than 42 witnesses of the container killings and visited the site, a Catholic Church compound, in the South Sudanese town of Leer.
Relatives interviewed had said that the victims were "cattle keepers, traders and students, and not fighters," Amnesty said, adding that temperatures in South Sudan's oil-rich Unity State often exceeded 40 degrees Celcius (104 degrees Fahrenheit).
"Government soldiers arbitrarily arrested dozens of men and boys in Luale village and Leer town. They then forced them, with their hands tied behind their backs, into one or more shipping containers at the Comboni Catholic Church," the report said.
Presidential spokesman Ateny Wek Ateny dismissed Amnesty's report, calling it "fabricated lies by people working for regime change."
'Crying and screaming'
"Civilian and military officials had direct knowledge that the detainees were in distress and dying but did nothing to help them," Amnesty said. "Witnesses described hearing the detainees crying and screaming in distress and banging on the walls of the shipping container, which they said had no windows or other form of ventilation."
Government soldiers later used a truck to dump bodies in two open pits approximately one kilometer (two-thirds of a mile) from Leer. Relatives later found decomposing remains and skeletons strewn across the ground.
Widespread rape
From Geneva on Friday, the UN Human Rights office released a separate report, accusing all sides in South Sudan's conflict of committing serious human rights violations, while adding that "state actors" bore the greatest responsibility amid long-standing food shortages.
Some armed militias affiliated with government forces "raided cattle, stole personal property, raped and abducted women and girls," according to the report's authors, who visited South Sudan between October and January.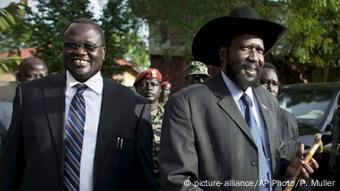 A power struggle between President Salva Kiir (right) and his deputy, Riek Machar (left), led to the conflict
In some cases, parents had been forced to watch their children being raped, the UN body said. Last year, within only five months, 1,300 rapes cases were reported.
"This is one of the most horrendous human rights situations in the world," concluded UN human chief Zeid Raad al-Hussein, "yet it has been more or less off the international radar."
Calls for international prosecution
Zeid recommended that the UN Security council expand sanctions already in place by imposing a "comprehensive arms embargo" and referring the situation to the International Criminal Court if other judicial means failed.
Amnesty demanded in its report that the African Union Commission use South Sudan's August 2015 peace agreement to set up a "hybrid criminal court" to prosecute suspects.
South Sudan erupted into civil war in December 2013, barely two years after winning independence from Sudan. The conlict stemmed from a falling-out between President Salva Kiir and his deputy, Riek Machar.
Pollutants in oil areas
Last week, German toxicologists said dangerous heavy metals used in oil production had leaked into drinking water sources used by 180,000 people in South Sudan's Unity region.
Pollutants such as lead and barium had been found in hair samples from 96 residents in Leer as well as the localities of Koch and Nyal.
The areas have changed hands several times during the civil war and lie in the watershed of the White Nile River and the swamplands of the Sudd, one of the world's largest wetlands.
ipj/msh (AFP, dpa)