The head of Russian gas giant Gazprom said he was willing to reopen supplies to the European Union as quickly as possible, on condition that the EU monitors the flow of gas through Ukraine.
"As soon as the EU observers are in Ukraine and have access to the gas pipelines, the gas supplies should be restored as soon as possible," Alexei Miller said after a meeting in Brussels with the president of the European Parliament, Hans-Gert Poettering.
Ukrainian officials also said they hoped for a quick agreement.
"We could possibly sign the contracts in Moscow this evening: "I hope it will come to that," Bogdan Sokolovski, energy envoy to Ukrainian President Viktor Yushchenko, said.
EU seeks guarantees on deliveries
But EU officials insisted that there would only be a point in despatching the mission if both Russia and Ukraine guaranteed to restart deliveries to Europe.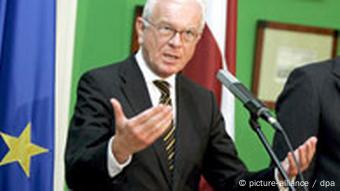 EU Parliament President Poettering met the parties
"We do not want to send observers just to check that the situation is not changing. We want to send observers to make sure that the situation is changing, that supply and transit is resumed," European Commission spokesman Johannes Laitenberger said.
The official statements came hours after EU spokesmen confirmed that the bloc was ready to send a mission of gas experts to Ukraine to make sure that any Russian gas entering the country bound for European clients actually made it to its destination.
A European Commission energy director told Reuters news service that EU observers would be ready in two days.
Moscow, Kyiv trade accusations
Gazprom has repeatedly accused Ukraine of siphoning off gas for European clients to meet its own needs, after the Russian company shut off direct deliveries to Ukraine in a row over contract terms.
On Tuesday, Jan. 5, Gazprom stopped all deliveries of gas through Ukraine to Europe, saying that this was the only way to prevent such "thefts," in a major escalation of the conflict which provoked outrage in Europe.
On Thursday, Jan 8, both Miller and his Ukrainian counterpart, Oleh Dubyna, visited Brussels to lobby for EU support in the row, which comes as temperatures across Europe plunged to record lows.
The EU refused to take sides, instead demanding that the gas be turned back on instantly.
Suppliers' reputation 'at risk'
"In the short run the problem is with those who don't receive the gas. But in the medium and long term the problem is with those that do not appear as reliable suppliers and transit suppliers. At this point in time this reputation is at risk," Laitenberger said.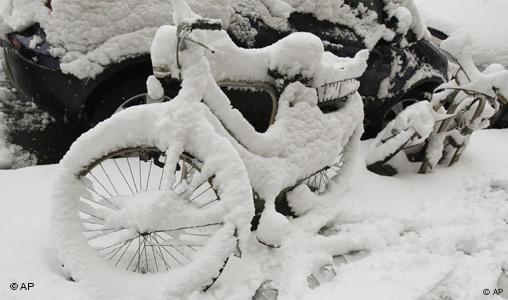 A cold front in Europe has added to the urgency
Russia is the EU's largest supplier of natural gas, accounting for some 25 percent of the bloc's total consumption. Eighty percent of that gas passes through Ukrainian pipelines.
However, the current crisis, which is a near-perfect repeat of a row in 2006, has sparked an impassioned debate across Europe on the need to reduce the bloc's reliance on both its former-Soviet neighbors.
This time around, the gas cut-offs have left hundreds of thousands of people in the Balkans without gas, forced factories to shut down and disrupted deliveries as far west as France and Germany.
France and Germany said Russia had to honor its gas contracts with Europe regardless of the dispute, but they also warned Ukraine not to forget its own obligations.
History of tensions
"We expect the talks between Ukraine and Russia to yield quick results," German Chancellor Angela Merkel said in Paris after talks with French President Nicolas Sarkozy.
The dispute between Kyiv and its former Soviet master in Moscow follows tensions over Ukraine's efforts to join NATO, a move bitterly opposed by Moscow and viewed with wariness even by European members of the alliance and by investors.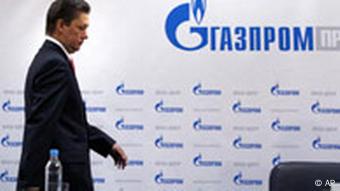 Gazprom's Miller lobbied in Brussels for support
Russia cut off gas for Ukraine's domestic consumption on New Year's Day after disagreements over gas prices and debts owed by Ukraine. It fully suspended supplies of transit gas towards Ukraine on Wednesday, saying there was no longer any point delivering the gas because Kyiiv had shut down the pipelines.
Ukraine said Russia was deliberately starving Europe of gas.
Southeast Europe has borne the brunt of the disruption, but it has affected supplies as far west as France and Germany as Europe faced freezing mid-winter temperatures.
Europe is weathering the storm
"A key point here, is that industrial stoppages are only now beginning to occur (mainly in gas intensive industries), but would spread relatively rapidly if gas supplies remain limited," Martin Blum, an economist at Unicredit in Vienna, told Reuters news agency.
Based on gas use and reliance on Russia as a source of gas, Blum said Hungary and Slovakia looked most at risk from the halt in supplies. Bulgaria, Serbia and Croatia all had reserves reportedly below 10 days of average consumption, he added.
The euro zone's major economies have escaped significant economic repercussions, but France has reported a drop in supplies and an Italian industry ministry spokesman said Italy has begun tapping its stockpiles of natural gas.