Having blasted off from the Baikonur Cosmodrome in Kazakhstan - "Gagarin's launchpad," as Alexander Gerst referred to it ahead of take-off - the Soyuz rocket docked on Thursday at the International Space Station (ISS).
"The view of the Earth is super!" Gerst (second from right in picture) said in a live video-chat with his family from the space station. "The flight was fantastic. I still can't quite believe it, it's like a dream."
The TMA-13M rocket carried Reid Wiseman of NASA, Maxim Suarez of the Rusian Federal Space Agency and Alexander Gerst from the European Space Agency.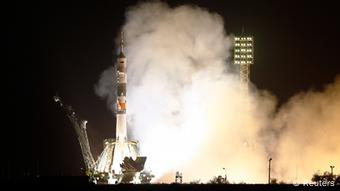 Russia's Soyuz is currently the only rocket able to take crew to and from the ISS
The hatches opened at 3:52 a.m. UTC, allowing entry to the new trio joining another three astronauts currently on board the orbiting platform.
"It's a very emotional moment when the hatches open," German former astronaut Ulf Merbold, now 72, said at the launch site. "A mission like this requires a lot of preparation, so the arrival is a relief for everyone."
Gerst, a 38-year-old geophysicist and volcanologist from Künzelsau in Baden-Württemberg, is on his first trip to space. He said on his Twitter account before launch that he was excited but relaxed.
All three of the new arrivals are scheduled to spend almost six months, 167 days, aboard the ISS; at least one spacewalk is scheduled during their stay. Gerst's two brothers and his father, Hans-Dieter, watched the launch in Khazakstan.
Father wishes 'safe return'
"I wish Alexander a lot of fun up there. And a safe return," Hans-Dieter Gerst said.
German veteran Merbold and Sigmund Jähn - the former East German who became the first German to travel into space in 1978 - were also invited to attend.
Gerst called his maiden voyage into space a "childhood dream," the scientist will conduct around 100 experiments during his time on board.
The mission has been called "Blue Dot," a reference to a phrase coined by astrophysicist Carl Sagan after seeing an image of Earth - the blue planet - taken from a great distance by NASA's space probe Voyager.
msh/ipj (AFP, dpa)