The aftershock put at 5.1 brought down a clock tower made of bricks in the town of Finale Emilia, the main quake's epicenter 36 kilometers from Bologna, injuring a firefighter. The same jolt also toppled a wall of city hall in Sant'Agostino de Ferrara.
The dead include four nightshift workers in factories which collapsed in three different locations during the main quake at 4.04 a.m. Another victim, a German woman, succumbed to a panic attack. The other, a woman aged 103, was hit fatally by ceiling fragments.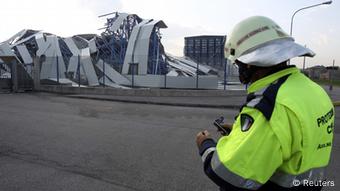 This ceramics factory collapsed in the main quake, killing a worker
Emergency workers spent hours sifting through rubble during aftershocks. Many shaken residents spent Sunday outside. An estimated 3,000 people have been left homeless.
Worst since the 1300s
Italian television showed many historic buildings of the Emilia Romagna region, which lies near Italy's Po river basin, including churches, reduced to rubble. Civil defense agency official Adriano Gumina said the quake was the worst to hit the region since the 1300s.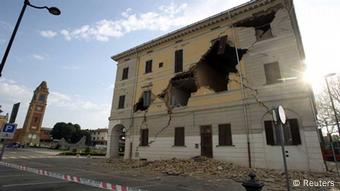 The town hall in Sant'Agostima was left badly damaged
At San Carlo, near Ferrara, the roof of a recently renovated sixth-century chapel caved in, exposing angel statues to the weather.
Architect Claudio Fabbri said restoration had taken eight years. "Now there's nothing left to do," he said dejectedly.
Ferrara is listed as a World Heritage site by UNESCO because of its Renaissance palaces.
Dairy industry officials say warehouses storing 300,000 wheels of Parmesan and Gran Padano, a similar cheese, had also collapsed. The cheeses' estimated value was more than 250 million euros ($320 million).
In 2009, a 6.3 magnitude quake hit Italy's central city of L'Aquila, killing more than 300 people. Its historic center is still largely uninhabited and in ruins.
Monti to cut short US visit
From Rome on Sunday, Pope Benedict XVI said he was "spiritually close" to those affected by earthquake in the Emilia Romagna region.
Italian Prime Minister Mario Monti said he would return home early from multiple summits in the United States to deal with the aftermath of the quake and Saturday's deadly school bombing in Brindisi in southern Italy.
"I have decided to participate only in the beginning of the NATO summit (in Chicago) and then to leave in order to be in Italy tomorrow afternoon," he told the Italian news agency Ansa.
ipj/ng(AFP, dpa, AP)