The violent episodes on Lesbos at the start of the week were a culmination of months of inaction by the Greek government, unprecedented numbers of people fleeing conflicts in Syria and elsewhere and a local population who has seen their island transformed. Within days of the unrest, some 20,000 refugees had been cleared and moved onwards to Athens on boats chartered by the Greek government.
Not so long ago, Lesbos was famous for its beautiful scenery, sardines and the picture-perfect town of Mithymna, a UNESCO World Heritage Site known locally as Molyvos. Now, its name is more commonly used when referring to the European Union's response to the tens of thousands of people fleeing conflict in Africa and the Middle East.
This is a place where life has been turned upside down. One-third of the island's inhabitants can trace their roots back to refugees fleeing the Great Fire of Smyrna in what is now Turkey in 1922. Yet many express little sympathy for current migrants.
"Do you know who makes the most money out of this situation?" Stavros, a driver from Mithymna, asked rhetorically. "The volunteers. Do you think they're paying for their own tickets and accommodation to stay here? Of course not. It's a very nice way to have a holiday."
This is news to 23-year-old Kirsten from the Netherlands. She is one of the rota of volunteers who watch for arriving dinghies through a newly formed Dutch NGO, the Boat Refugee Foundation. Together with the local couple Eric and Philippa Kempson, who form the backbone of Mithymna's relief effort, they meet the dinghies with water, clothes and sanitary items.
"I came here because I was watching the images on television and wanted to help," Kirsten said. "It feels really good to be here." She gave up three weeks of her personal summer holiday to fly to Lesbos to help.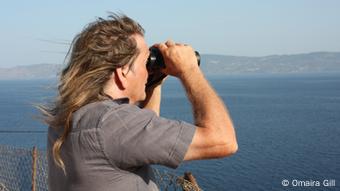 Eric Kempson keeps watch for arriving vessels
There is no shortage of things for Kirsten and the other volunteers to do. Eric Kempson said that, just a few days ago, 40 boats arrived in a single afternoon. As the smugglers on the other side of the channel reap the benefits, the boats keep coming.
'To no avail'
On the road from Mithymna to Mytilene, the capital of Lesbos, enormous piles of fluorescent orange lifejackets, deflated dinghies and tire tubes litter every beach. In some places, the pebbles disappear altogether under the sheer volume of discarded materials and locals pick their way through the detritus for their daily swim. Scavengers waste no time in taking anything valuable, sometimes trying to rip away outboard engines from dinghies before they have reached shore.
"We've been facing the refugee crisis for a few years now, but at the end of January this year the numbers really went up - from around 600 a day in March to 1,500 a day by July," Marios Andriotis, the press officer to the mayor, told DW. "As we saw the numbers going up, we tried to raise the profile of this issue. We asked the central government for help to no avail. A municipality like ours had no experience in dealing with this."
Andriotis said city officials estimate that in the past two months the total number of migrants who have passed through Lesbos had surpassed 90,000 - more than the population of the island itself.
"If we had got the help we were asking for all this time, the clashes wouldn't have happened," Andriotis said. "We avoided total disaster at the very last second with the government finally responding. Correctly handling this situation with the help we needed when we needed it would have been good publicity for the island. As it is we've had to appease parents who don't want to send their children here when the university opens this month."
Apart from the lack of support from the government in Athens, Mayor Spyros Galinos has also had to deal with opposition from locals who are protesting plans for additional processing centers. "They complain to us, rightly so, about school yards and roadsides being used by refugees," Andriotis said. "But, when we suggest a solution that would process the refugees quickly and help them move on from Lesbos, they don't want that either."
Even in the face of the increased number of migrants over the summer, Andriotis is more worried about the winter: "We know there are around 3 million people waiting to cross. They won't stop coming."
In Mytilene town itself, the tent village has all but disappeared. What remains are the odors of a public space with no facilities that was used by too many people for too long and a sense that the present conditions won't last.
In a takeaway cafe near the port, Sophia, a waitress, said the clearing out of the tent village was a political ploy with elections looming. "Once they're over," she said, "it'll go right back to what it was." It's a common view among the locals.
'Practical help'
Djamal Zamoum, the emergency coordinator for the UNHCR, said the refugee agency had initially responded by taking on an advisory role until the complexity of the situation became apparent. "When we realized three or four weeks ago that the authorities didn't have the capacity to deal with the numbers, which kept growing, we decided to offer practical help," he told DW. "We are working in partnership with various bodies to provide shelter, food and registration assistance. For the winter our recommendation for the authorities is that we shouldn't let the situation get to where there will be more than 5,000 people at any given time on the island - maximum. We need an efficient registration process so that refugees can leave as quickly as possible and housing units for the winter rather than tents at the camps."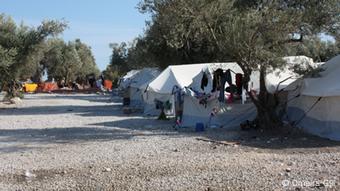 The Kara Tepe camp is exclusively for Syrians
At Kara Tepe, a few kilometers outside Mytilene, Syrian refugees wait to get papers to travel onward to Athens. The camp is almost empty now, but the heavily littered grounds betray the gigantic scale of the problem, which built up over months, leading the camp, built for 600 people, to host more than 3,000.
To get some idea of the problem, one need only to travel down the road to Moria, home to a camp for migrants from countries other than Syria. Enormous black nets normally used for collecting olives are spread out everywhere for shade, trucks and canteens do a brisk trade in fruit, water and tents, and hundreds of refugees stream to the registration desk. Compared with the Moria camp, Kara Tepe is relatively peaceful - indeed, Afghans who are housed at Moria have complained that Syrians get preferential treatment at Kara Tepe.
In Kara Tepe, a fashionably dressed young woman sat on a chair in the shade, looking impatient and wildly out of place. Her blond-streaked hair was carefully styled under a bandana. "No photos," she said grumpily.
Nearby, 18-year-old Laleh took a break for a dinner of chicken and rice provided by the International Red Cross. "I arrived in Greece this morning," she said. "It was very dangerous, I was very scared." She and her family are Syrian Kurds from Aleppo.
Having survived the crossing of the sea, Laleh is optimistic about her future. "I will go to Holland where my aunt lives," she said. "And one day I will go back to Syria. Syria was paradise."