The 31st African Union (AU) summit opened in the Mauritanian capital, Nouakchott, on Sunday focusing on ways to tackle corruption and extremism on the continent.
Mauritanian President Mohamed Ould Abdel Aziz urged for a comprehensive approach to dealing with extremist attacks, as well as addressing the root causes of the violence.
"The success of this approach entails the integration of solutions to the imbalances and the economic and social shortcomings that push our young people to become radicalized," he said.
Rwandan President Paul Kagame, whose country currently holds the AU presidency, said the organization will continue to support the people of Ethiopia, Nigeria and Mali who have been affected by extremist violence. "We regret the loss of innocent lives," Kagame said.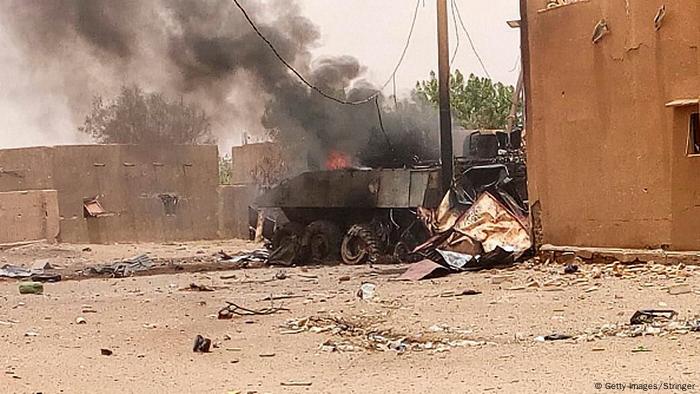 A suspected extremist attack targeting French forces in northern Mali killed four people on Sunday
Renewed violence in Mali
The summit comes as neighboring Mali experienced deadly extremist attacks over the past three days.
Three people were killed on Friday in a car bomb attack on the G5 Sahel force command post in the town of Sevare. The al-Qaida-linked Support Group for Islam and Muslims claimed responsibility for the attack.
Four Malian soldiers were killed on Saturday when their vehicle hit a land mine. An attack in northern Mali targeting French forces killed four civilians on Sunday and wounded over 20 people, including French soldiers.
Macron to meet with African leaders
During Sunday's summit, the leaders of the G5 Sahel states — Mauritania, Mali, Burkina Faso, Niger and Chad — reportedly met on the sidelines to prep for talks with French President Emmanuel Macron on Monday.
Macron will meet with the AU Peace and Security Council to discuss the fight against Islamic extremism on the continent, as well as ways to better finance peacekeeping and counterterrorism operations.
Over 40 African heads of state and government are taking part in the two-day summit, which will end on Monday. The leaders will also discuss promoting free trade between African countries as well as setting up a mechanism to return stolen money — which is largely placed in tax havens abroad.
rs/cmk (AP, AFP)
Each evening at 1830 UTC, DW's editors send out a selection of the day's hard news and quality feature journalism. You can sign up to receive it directly here.