West African regional forces announced they were preparing for a possible military deployment to Gambia in the event that Jammeh refused to step down.
Led by Senegal, which submitted a request to the UN Security Council that same day for approval of any military action taken by the Economic Community of West African States (ECOWAS), multiple regional governments deployed military forces along the Gambian border as the midnight deadline for Jammeh's departure expired.
Among the countries that took part in the mission were Ghana, which sent 205 combat troops to Gambia, and Nigeria, which deployed its air force to Senegal as backup.
As fears of a brewing military confrontation grew, Gambia's army chief announced that he wouldn't order his troops to fight other African forces, were they to cross the border.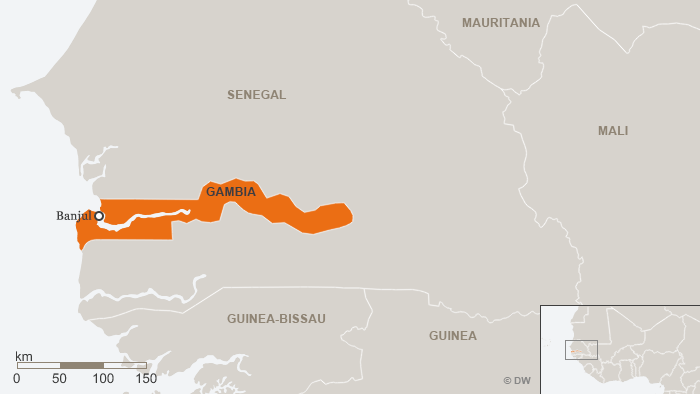 Last-ditch efforts for peace
Mohamed Ould Abdel Aziz, the president of Mauritania, which is not a member of ECOWAS, flew directly to Senegal to speak with the country's leader, Macky Sall, after an effort to hold talks in Gambia.
Jammeh, who has ruled the country for 22 years, lost an election on December 1 to opposition candidate Adama Barrow, who is set to be sworn in on Thursday. Jammeh had originally conceded defeat only to reverse his decision, citing voting irregularities.
On Sunday, Jammeh announced he had filed a court injunction to prevent Barrow from becoming president. "I have confirmed that we have filed an application for an injuction to restrict Mr. Adama Barrow from being sworn in as well as restricting the chief justice and any other parties from swearing in Mr. Adama Barrow until the application is decided by the Supreme Court of Gambia. And, until then, the status quo remains," he said.
A spokesperson for Barrow said the inauguration would go on as planned anyway.
Tensions in the region grew as ECOWAS members tried and failed to reach an agreement with Jammeh, who announced a state of emergency on Tuesday in response to what he called an "unwarranted hostile atmosphere, threatening the sovereignty, peace, security and stability of the country."
blc/gsw (AFP, Reuters)