On October 31, 2016, DW unveiled its new format for its flagship AfricaLink radio program as part of DW's English for Africa service. The new show features world news and a host of new elements, including Bundesliga coverage and social media interaction.
"Radio remains very popular in Africa while social media - especially Facebook - continue to attract scores of new users. DW Africa has relaunched the AfricaLink radio program to reflect these shifting trends. The result is a show that is younger, more dynamic, more conversational and more connected to its African audience," said Claus Stäcker, head of programs for Africa.
In addition to top stories and feature reports from the African continent, there are also regular weekly features on topics of general interest, ranging from health and environmental issues to human rights as well as in-depth interviews with newsmakers and experts.
For football fans, AfricaLink will also be covering Bundesliga action every Monday and Friday.
DW has also launched a new DW Africa Facebook page as a forum for direct dialogue with users.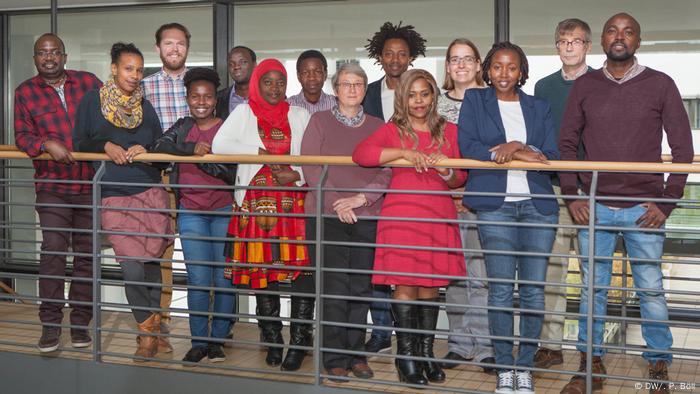 Meet the entire English for Africa team
Social media interaction will also be an integral part of the new AfricaLink. Our social radio editor will join the host each day, live in the studio, to discuss trending topics and check out listener reactions.
Additional programs
For those listeners who receive the full hour of DW radio programs, AfricaLink is followed by the same lineup Monday to Friday: Inside Europe, Spectrum, Pulse, World in Progress and Living Planet.
DW's youth radio program Pulse has also undergone a facelift and is now targeted primarily at young Africans. In 20 jam-packed minutes, listeners can meet young people making a difference, discover hot new musicians on the scene and get to the bottom of today's issues.
Pulse is followed by DW's award-winning Learning by Ear educational radio drama series. The "Crimefighters" series addresses many of the issues facing young Africans, from cybercrime to environmental pollution to land grabbing to counterfeit drugs. The series gets to the heart of the challenges young Africans face on a daily basis.
For all of DW's Africa coverage, visit the DW Africa page, or subscribe to the podcast on iTunes.
Our shortwave listeners can download an updated list of times and frequencies below.