The Cold War is not dead – at least between China and Taiwan. In the mid-20th century both Taipei and Beijing had sought recognition as China's official government. On an international level, this meant establishing relationships with countries around the world.
While Beijing has in the meantime won this diplomatic race, a small number of countries still maintain diplomatic relations to Taiwan and recognize it as an independent entity. In January, Taiwan elected a new president, Tsai Ing-wen of the pro-independence Democratic Progressive Party (DPP). She has made it clear that while she wants to maintain a peaceful relationship with China, she would not allow it to meddle in Taiwan's affairs.
For Africa, the relationship to the world's second biggest economy, China, has meant an alternative to relying on the former colonial powers of the West. China is a strong market for Africa's minerals and other exports. The pull of China's economic might has also meant a shift away from diplomatic ties that existed during the Cold War era for ideological reasons. China and Taiwan demand that countries decide in favor of just one of them. Relations with both are not possible under the "one China" policy.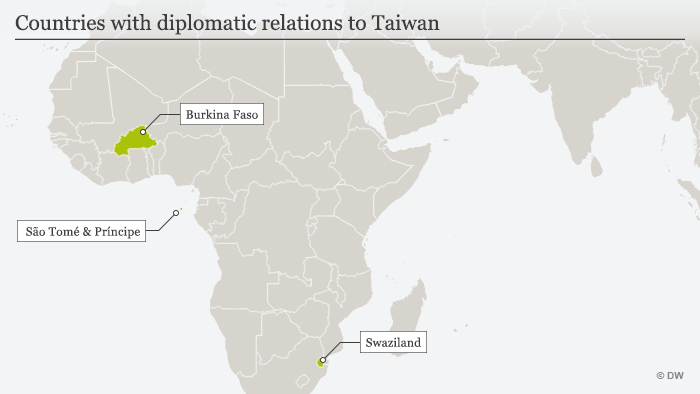 Today only three African countries, namely Sao Tome and Principe, Burkina Faso and Swaziland, maintain official ties to Taiwan. Yet recent events in Kenya and Gambia have demonstrated that Taiwan and China can be difficult diplomatic terrain for African nations.
Kenya
A diplomatic row surfaced earlier this week, when Kenya deported 45 Taiwanese nationals to the Chinese mainland. The Taiwanese were part of a group of 77 people arrested in Kenya in November 2014 over cyber fraud and visa offenses. There are plans to try the group in mainland China. Earlier this week, a video circulated online of the Taiwanese nationals blocking acces to their prison cell and resisting attempts by Kenyan police to deport them. Now that the group has been extradited, Taiwan is negotiating with China over visiting rights for its nationals.
In recent years, Chinese firms have been involved in major road and infrastructure projects in Kenya. "We don't have official relations with Taiwan. We believe in the "One China" policy," Kenya's Foreign Minister Amina Mohamed told news agencies.
Gambia
Gambia was the last African country to break diplomatic ties with Taiwan. In 2013, President Yahya Jammeh declared that he would rather work with Beijing. The Chinese government, however, declined the offer. At the time, Taiwan had a China-friendly leader and the two sides had agreed not to take advantage of the other's diplomatic partners. China kept its promise for three years. In March 2016, however, it decided to take Gambia up on its offer. Observers believe that this could be a reaction to the election in Taiwan of a pro-independence candidate for the presidency.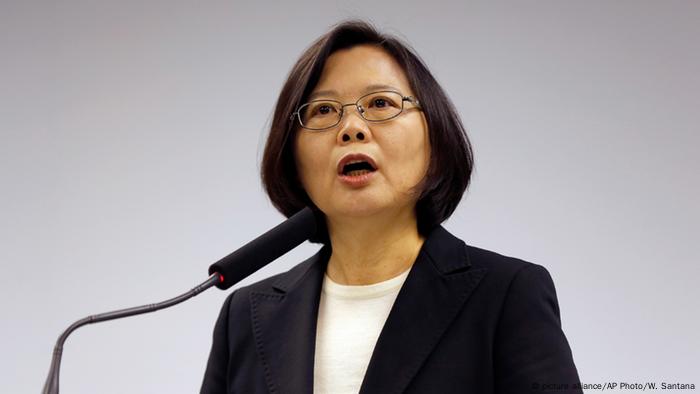 Taiwan's new president-elect Tsai Ing-wen is set to take office in May. She is said to favor independence more strongly than her predecessor.
Swaziland
There were once 30 African states which had ties to Taiwan. Now there are just three and they include Swaziland. The relationship to the democratic Taiwan could be seen as an attempt of Africa's last absolute monarchy to polish its image, according to political analysts Timothy Rich and Vasabjit Banerjee in a study for Hamburg's GIGA Institute. It is easy to see why the Chinese have not yet made headway in Swaziland, they say. Unlike Zambia, it has few rare minerals that could interest China. Additionally Swaziland has profited from Taiwanese development aid. In 2012, the kingdom received computers at the value of $300,000 (265,000 euros) and $150,000 worth of rice.
Zambia
Zambia is often referred to as a strong partner of China in Africa and has profited from Chinese investment, particularly in the mining sector. In 2006, however, that relationship looked likely to fall apart. At the time, presidential candidate Michael Sata criticized labor conditions in Chinese firms in Zambia. He threatened to cut ties to China and instead turn to Taiwan. China countered his statements, saying that it would pull its diplomats and businesses out of Zambia should Sata win the upcoming elections. The British paper 'The Telegraph' called the Zambia's elections a 'referendum on China'. When Sata finally won the elections, he however swallowed his election promises and maintained the relationship to Beijing.
South Africa
Under apartheid, South Africa's government enjoyed a very strong relationship to Taiwan. Beijing on the other hand supported the ANC and anti-apartheid movement. In 1998 South Africa severed its political ties to Taiwan. Today, South Africa and China are strong economic partners – they both belong to the five-country group of BRICS states – and South Africa's ruling ANC enjoys a close relationship to China's Communist Party. According to a study by political analysts Sven Grimm and Yejoo Kim, Taiwanese businesses were given a relatively humane farewell in South Africa as they were given a one-year period to settle their affairs. Taiwan still maintains a liaison office in Pretoria and Cape Town, but Taiwanese nationals have found it increasingly difficult to do business in the country.
In 2011, South Africans felt the heavy hand of Chinese influence when the country refused entry to the Dalai Lama. He had been invited to a world summit of Nobel Peace Prize laureates. Fellow laureate Archbishop Desmond Tutu was outraged by the South African government's decision. China views the Dalai Lama, the exiled Tibetan spiritual leader, as a violent separatist.