Afghan President Ashraf Ghani on Monday accepted the resignations of both the defense minister and the army chief of staff following a Taliban attack last week that claimed the lives of scores of government soldiers at a northern army base.
"Defense Minister Abdullah Habibi and Army Chief of Staff Qadam Shah Shahim stepped down with immediate effect," the president's office stated in a tweet.
The acting presidential spokesman, Shah Hussain Murtazawi, told the Reuters news agency that the pair had resigned because of Friday's attack in the northern city of Mazar-i-Sharif, in which gunmen and suicide bombers in army uniform killed and wounded soldiers praying in a mosque and eating in a dining facility.
The resignations came as US Secretary of State Jim Mattis arrived in Afghanistan for a visit during which he is expected to meet US troops stationed there and Afghan officials. Washington is looking to work out a strategy for its further role in the country under President Donald Trump's administration.
The US led an invasion of the country in 2001 in which the Taliban were ousted from power. After maintaining a security presence in Afghanistan for more than a decade, the US and other international forces ceased their combat operations at the end of 2014, though some troops remain in a training role.

Huge death toll
The Taliban have claimed responsibility for the assault, which is being called the largest and deadliest attack on an army command center in the country.
The Afghan Defense Ministry has so far failed to give an exact number of casualties, putting the toll at more than 100 dead and wounded. But some officials say 140 soldiers and other personnel were killed in the attack, with a further 160 injured.
The base is home to the 209th Corps of the Afghan National Army and serves much of northern Afghanistan.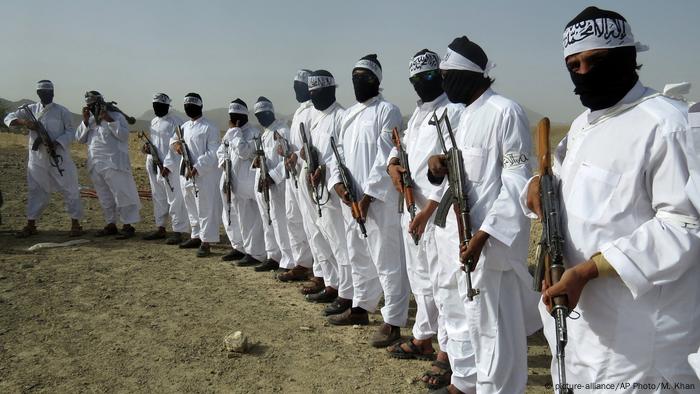 The Taliban were ousted from power in a US-led invasion in 2001
Multiple insurgencies
The attack was the second major assault on a secure facility in Afghanistan in recent months. In early March, "Islamic State" (IS) attacked a military hospital in the capital, Kabul, killing 49 people and leaving a further 76 wounded.
Afghan security forces are struggling to put down insurgencies waged not only by the Taliban, but also by IS and other foreign militant groups. Their task has become even more difficult since international forces withdrew their combat troops.