As many as four bombings by suspected Taliban militants rocked the Afghan capital on Friday, including two close to Kabul airport.
The two most recent blasts targeted an area close to coalition bases and Afghan government buildings late in the evening, security sources said.
Gunfire continued after the attacks, and NATO jets were heard flying overhead.
The number of casualties from the two evening blasts wasn't immediately known.
Earlier, a suicide bomber blew himself up close to Kabul's police academy on Friday, killing at least 20 recruits, officials said.
According to a police source, the attacker, dressed in police uniform, walked into a group of trainees waiting outside the building compound and detonated his explosives-laden vest. At least 25 recruits were wounded.
The Taliban claimed responsibility for the police academy attack, in a statement on Twitter.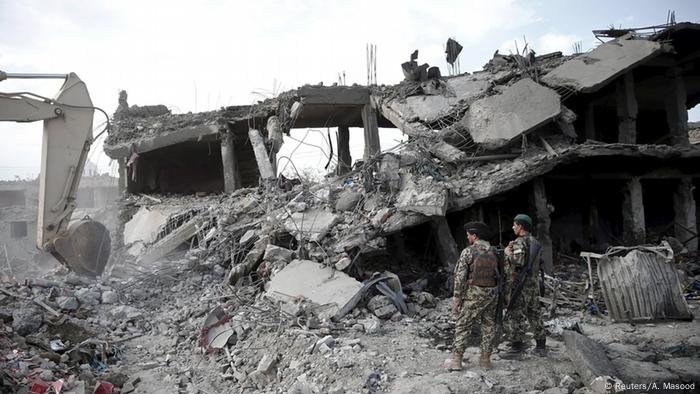 The truck bomb flattened several buildings in central Kabul
Less than 24 hours before that, a massive truck bomb was detonated in central Kabul, killing 15 civilians and wounding 240 others.
That blast was described as one of the largest ever in Kabul, leaving a 30-foot crater in the ground, near a government complex.
The bombings were the first major assaults in the Afghan capital since the death of Taliban leader Mullah Omar was announced.
Afghanistan's leaders have repeatedly claimed that the security situation is improving despite the pull-out of most NATO troops last December.
New United Nations data published on Wednesday revealed the number of civilian casualties hit a record high in the first half of 2015, with 3,329 people injured.
On Thursday, Taliban insurgents killed nine people in multiple attacks on police targets, including a truck bombing in eastern Logar province.
mm/bk (AFP, AP, Reuters)